ITEMS I HAVE TO TRADE FOR STUFF YOU HAVE:
Links to larger image - or- Open larger picture by right-click "open image".
More pictures? - Email
AT-AT
Complete with both chin guns and chin gun hatch. Original chin guns!
Guns will attach even though gun clips are a bit cut off (pics).
Displays nice. See pictures of condition or ask for more images.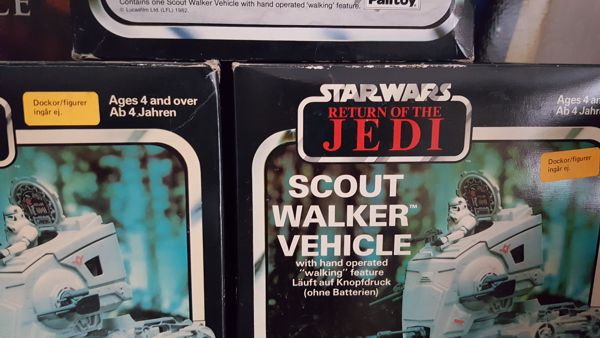 I could (maybe) trade a Swedish Dockor/figurer Boxed AT-ST with AT-ST and both the English and Swedish instructions but then it would have to be a damn good trade.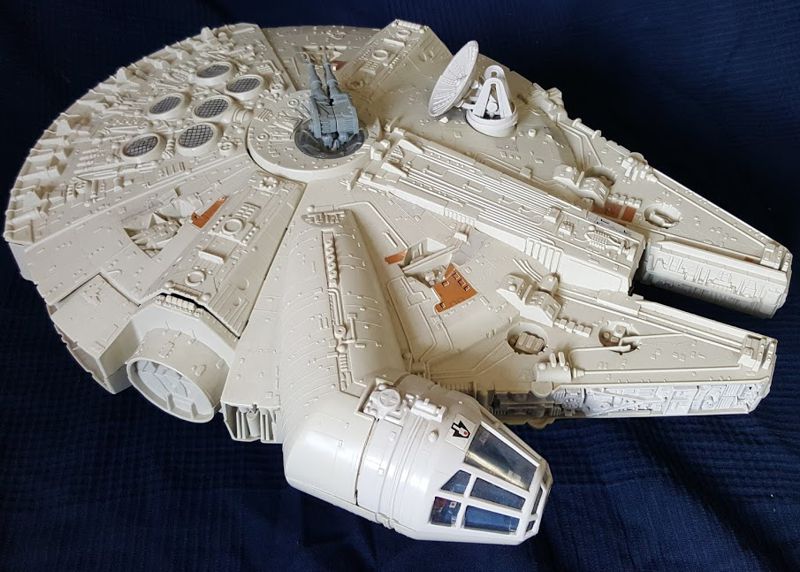 Millennium Falcon
Displays well. Only missing the ball. Arm is there along with all other parts (table, gunner seat, floor, guns, cock pit, radar dish etc).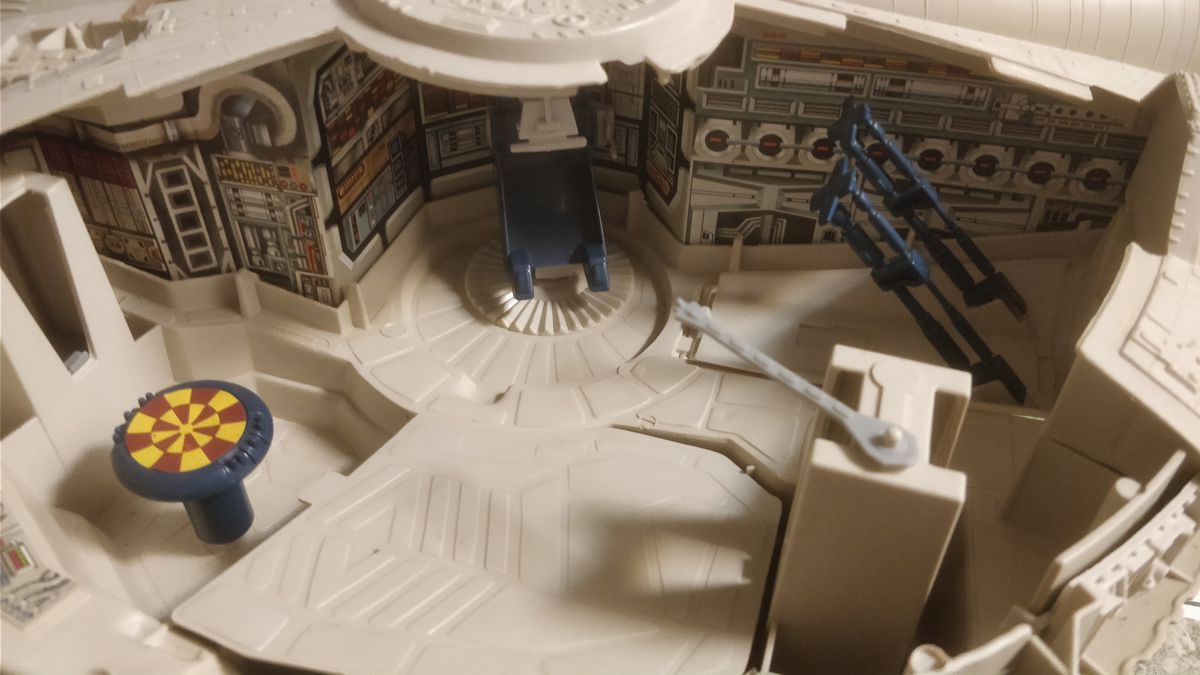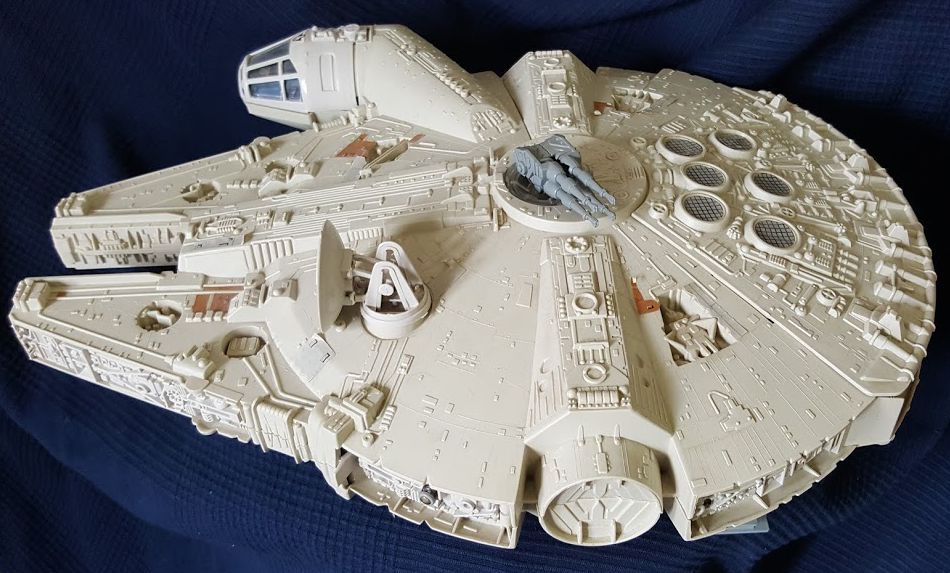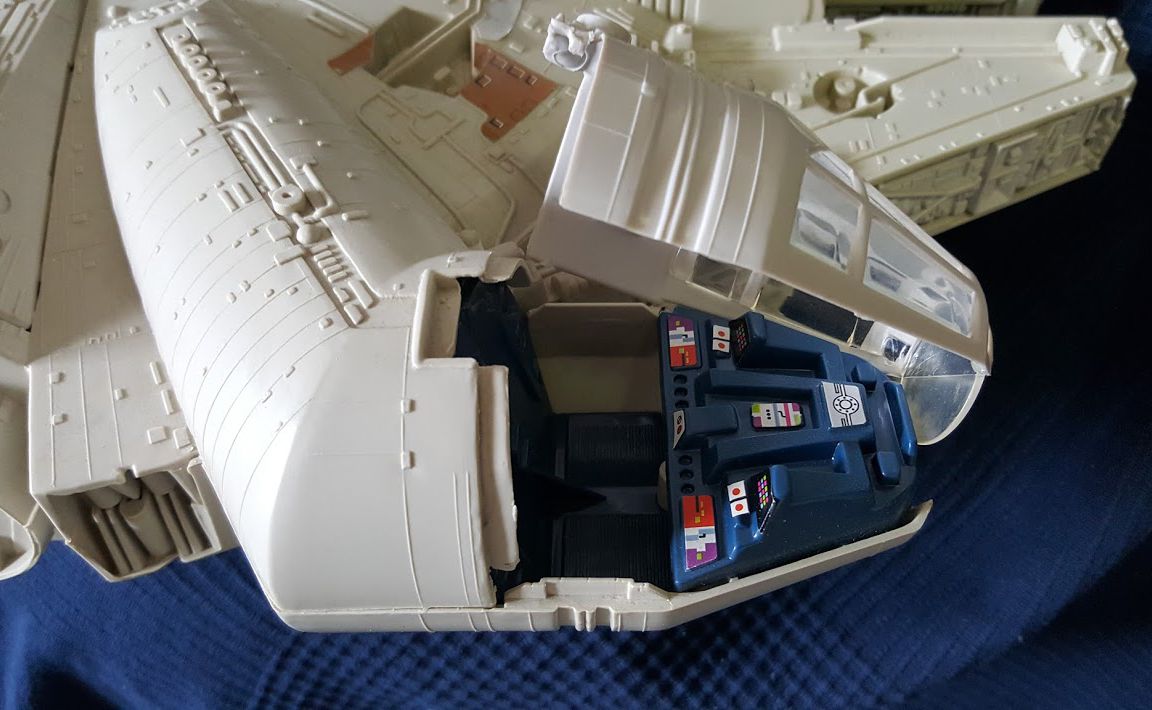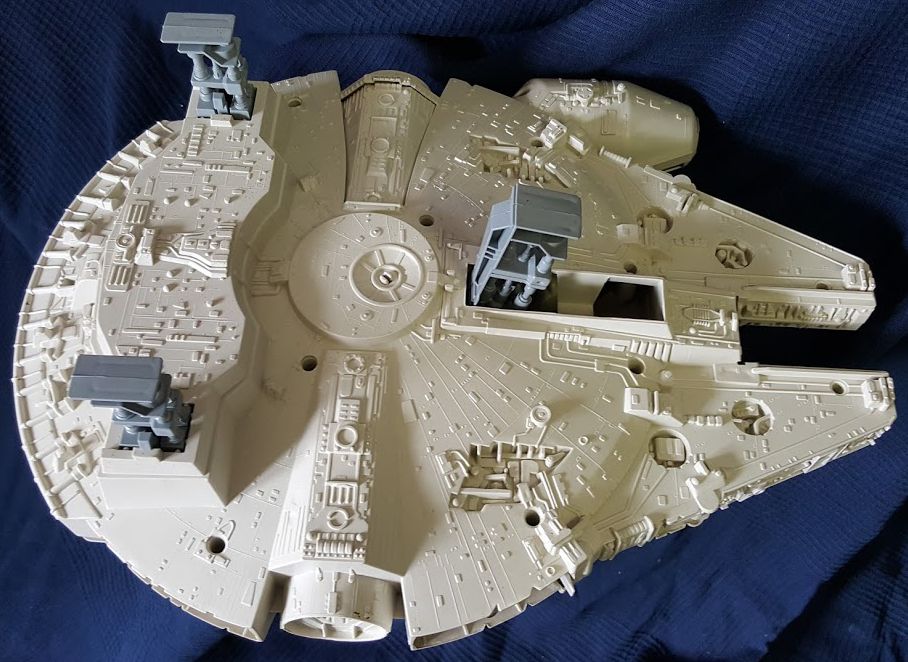 Slave 1
Complete with carbonite, loading bay and ramp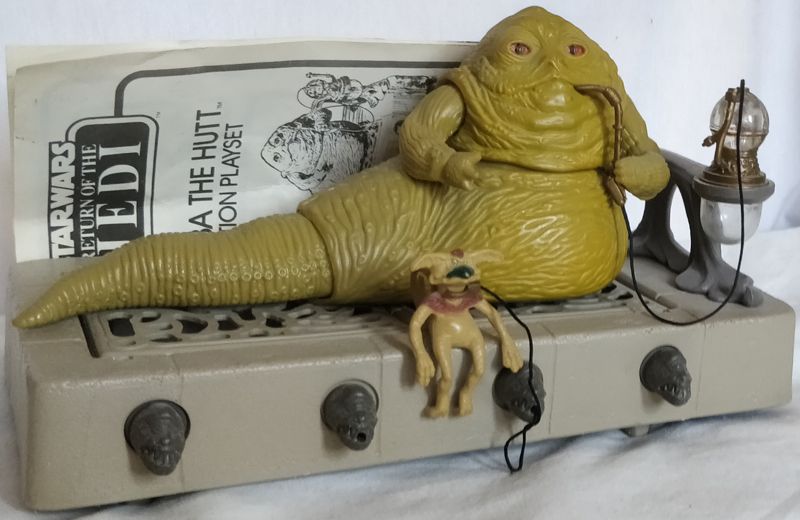 Jabba the Hut
Complete with instructions
Nice shape.
Rancor
Great shape, all working.
Dewback

Complete and great shape.

No broken reins
Wampa


Ok condition (pics). Some yellowing as usual. Some scuffing on claws. Descent.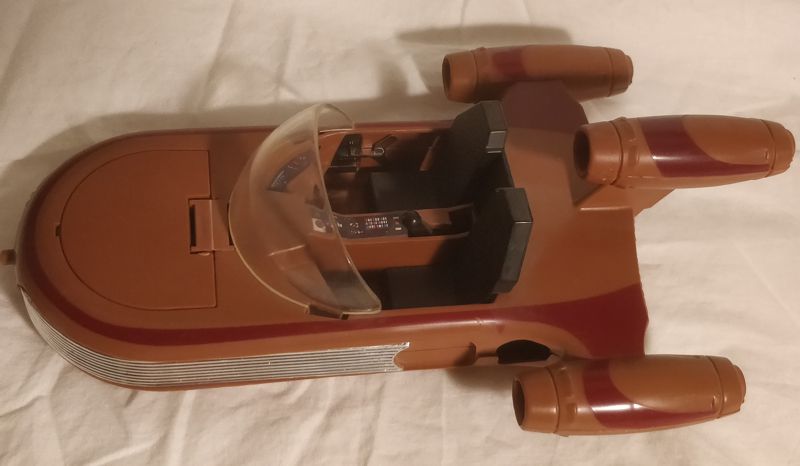 Landspeeder
Complete in great shape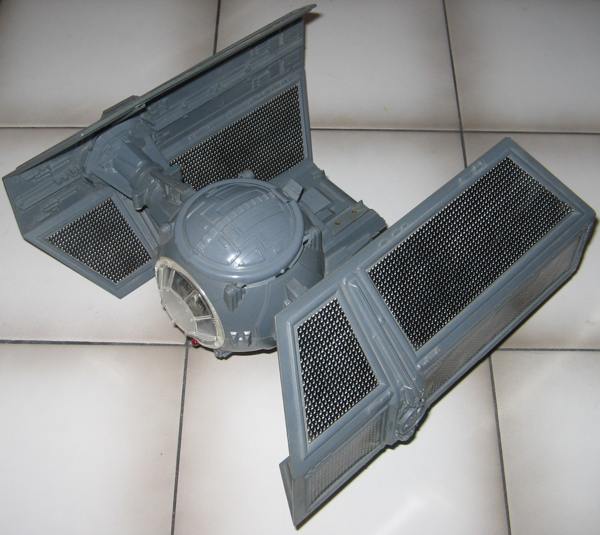 Darth Vader TIE Fighter
(complete, stuck wings)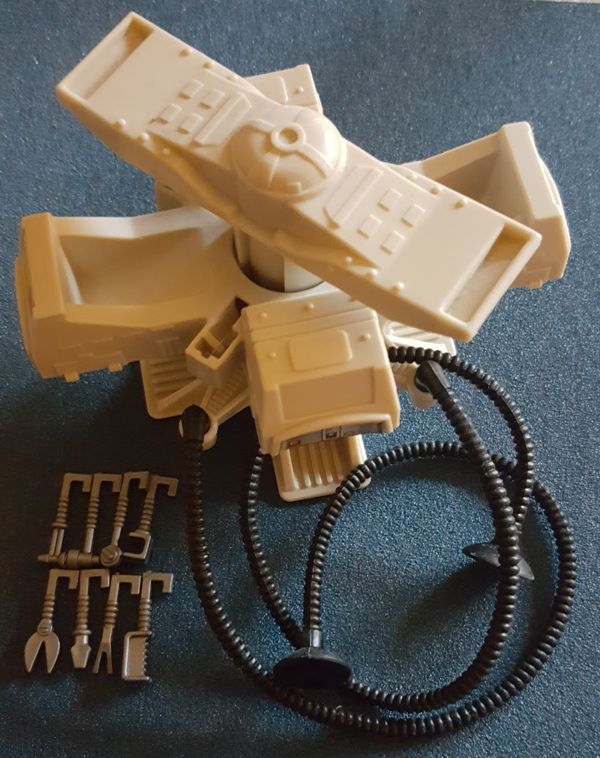 Vehicle Maintainance Energizer
Complete. Both hoses and all tools.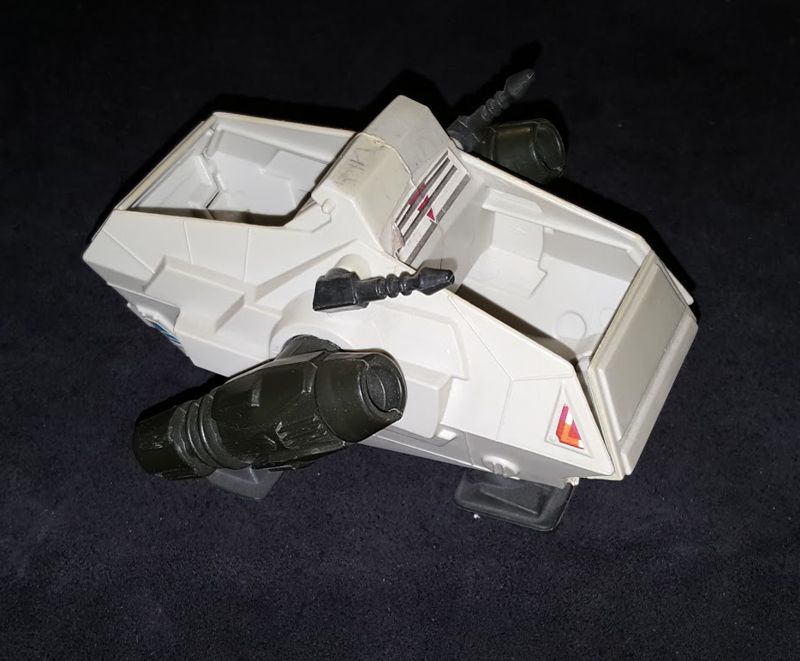 PDT-8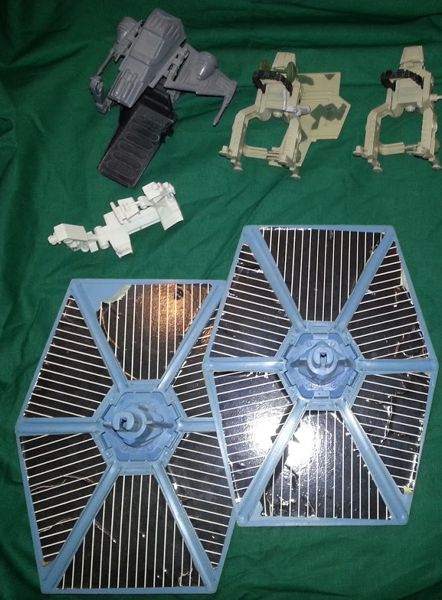 Imperial Sniper Vehicle (No terminal)

Falcon Gun Turret Pivot Part (stuff broke)

Battle Damage TIE Fighter Wings (set of 2 wings + pylons)

Security Scout (No guns, has frame, wing, belt, ear-muffs, joystick)

Security Scout (Only frame and belt)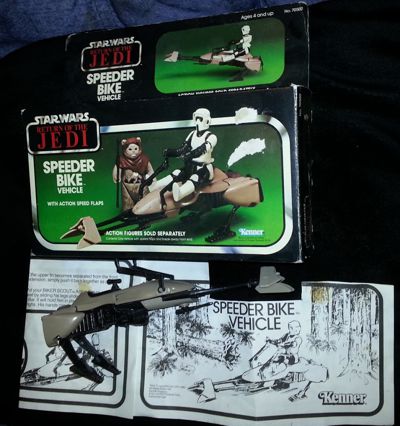 Speeder bike Boxed. Mine or my brother's box (has no swedish stickers though). No flaps. Has instructions (but missing the ROTJ-logo, see image). Email for more pictures.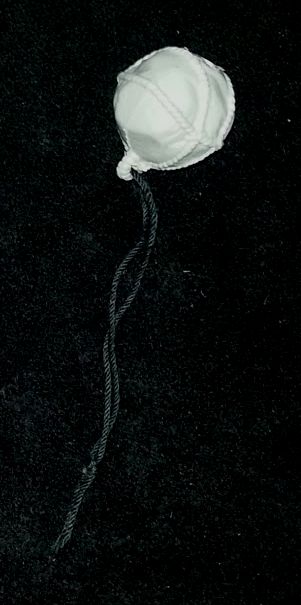 Ewok Glider, one rock and rope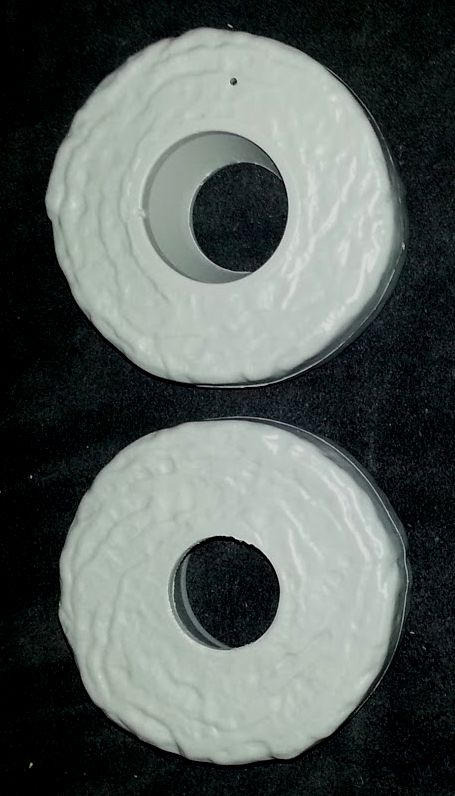 Ewok Battle Wagon, two wheels
one ski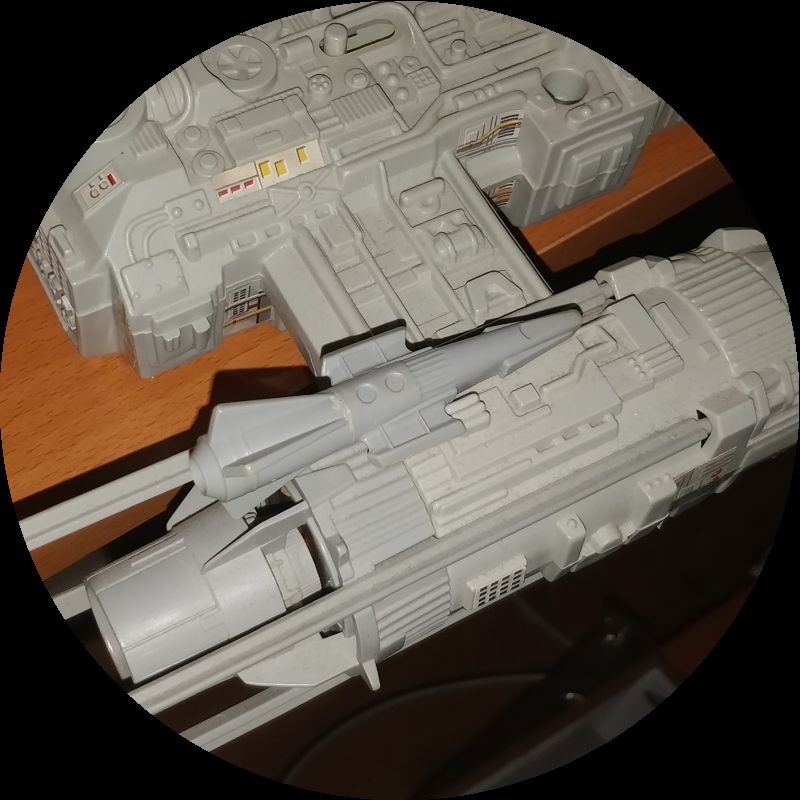 Y-wing bomb.
Glued together (pics). If repro will not trade (Let me know?).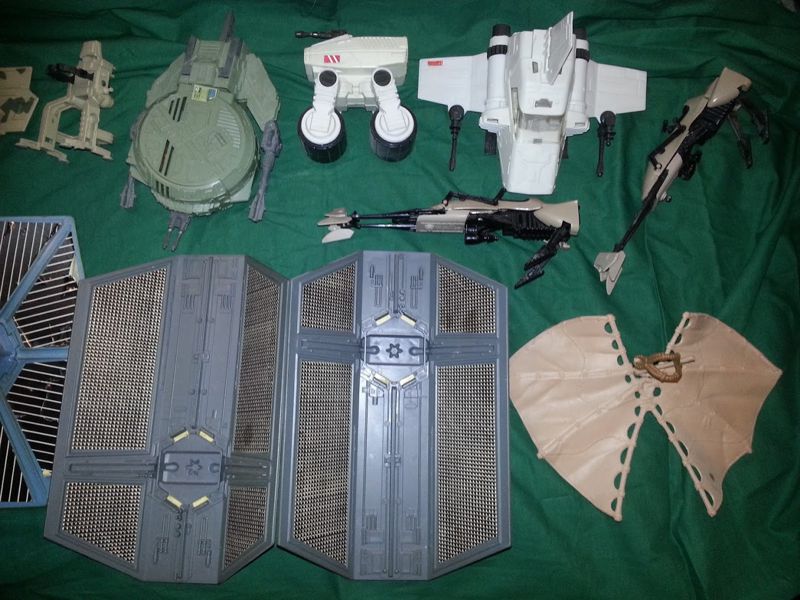 Speeder bike (no flaps)
Speeder bike (no gun, no flaps)
Darth Vader TIE fighter Wings (set of 2 wings, no pylons)
MTV-7 Mini-Rig, Loose
Ewok Combat Glider, traded
ISP6
Forest Ranger, traded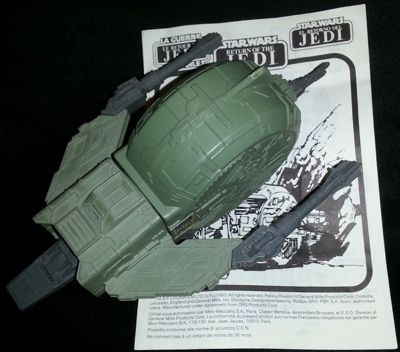 Forest ranger
with tri-logo instructions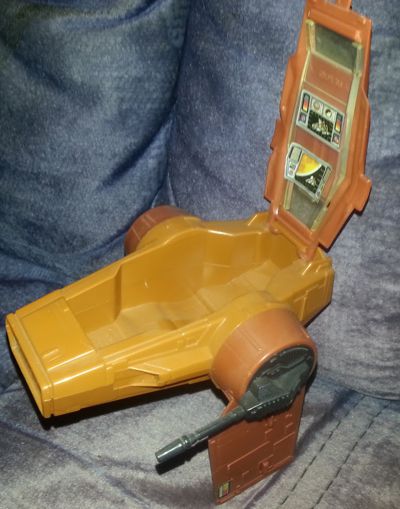 AST-5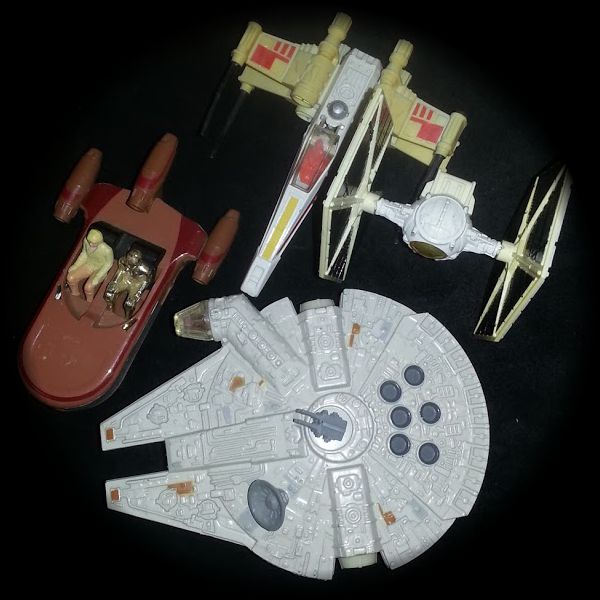 Die-Cast vehicles
Falcon in excellent condition.
Landspeeder in great condition
TIE-fighter in fair condition
X-wing very yellowed wings but else ok.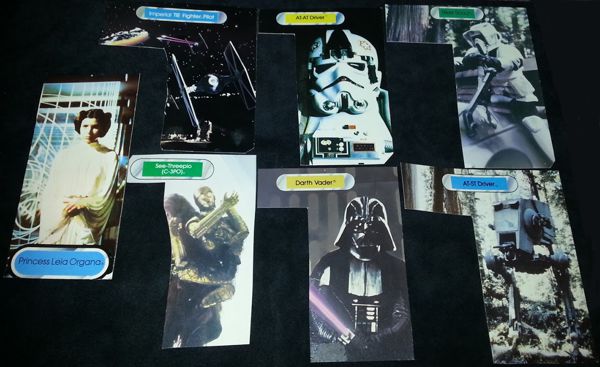 Cut Cardbacks
I cut some of them as a kid (yes, you may kill me).
Maybe you want to spice up your cabinet walls and decorate with them in your collection.
Trade for any vintage I'm missing. Let me know if you want to see the backs.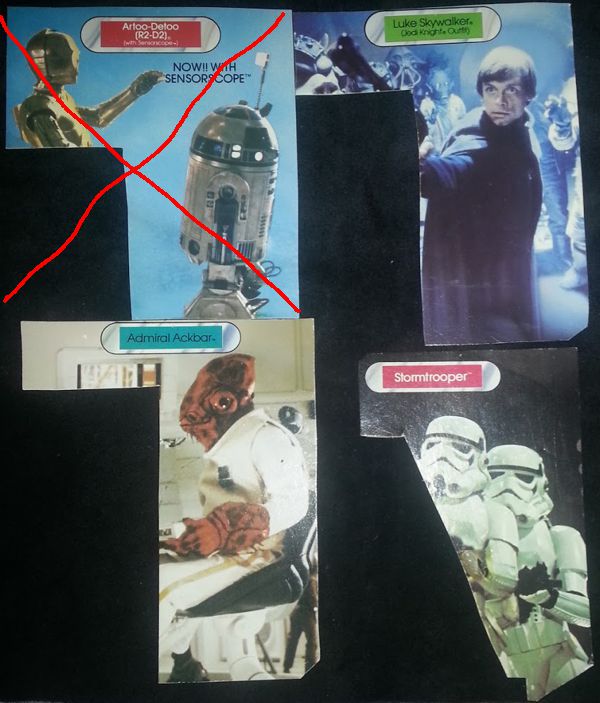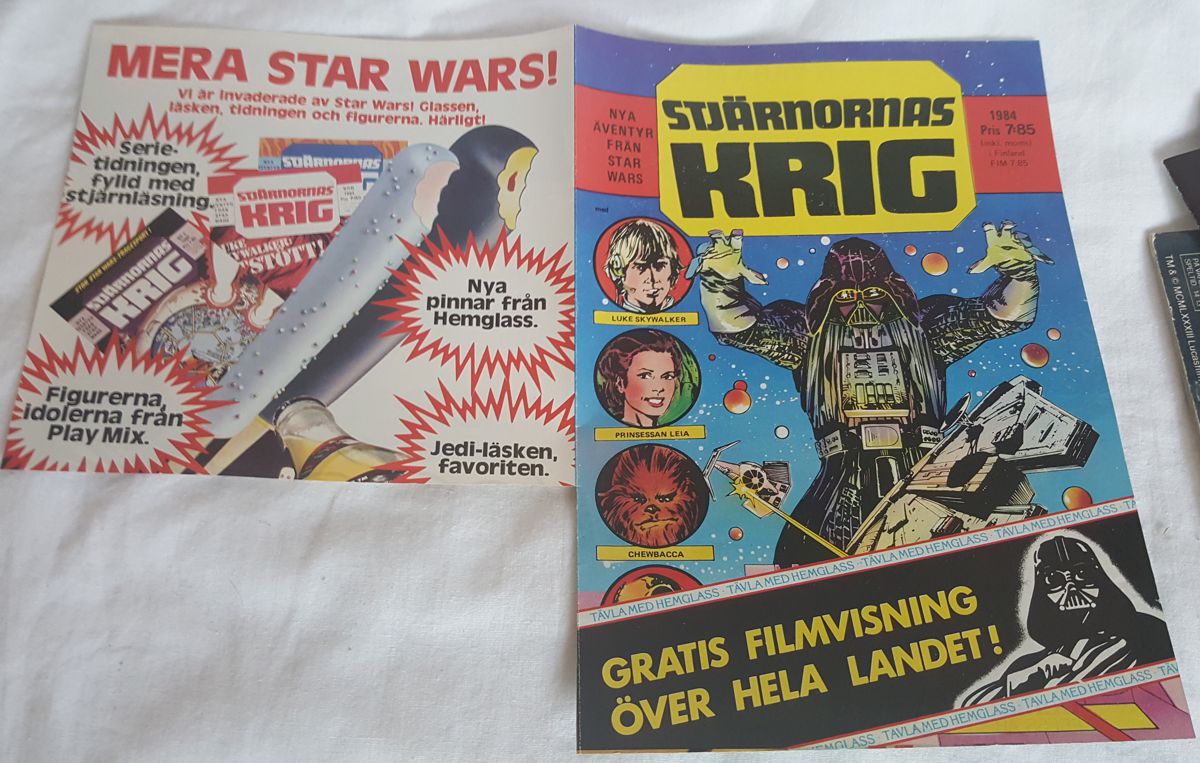 Hemglass - ad and movie ticket raffle
Rare Swedish commercial

[More info]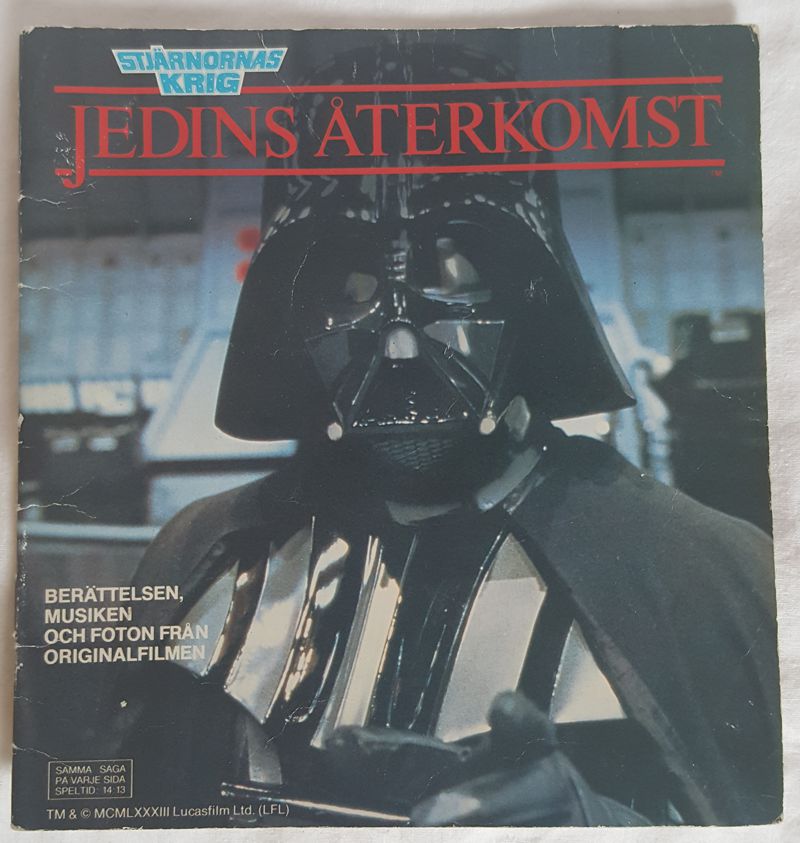 Swedish Ljudsaga Jedins Återkomst (ROTJ)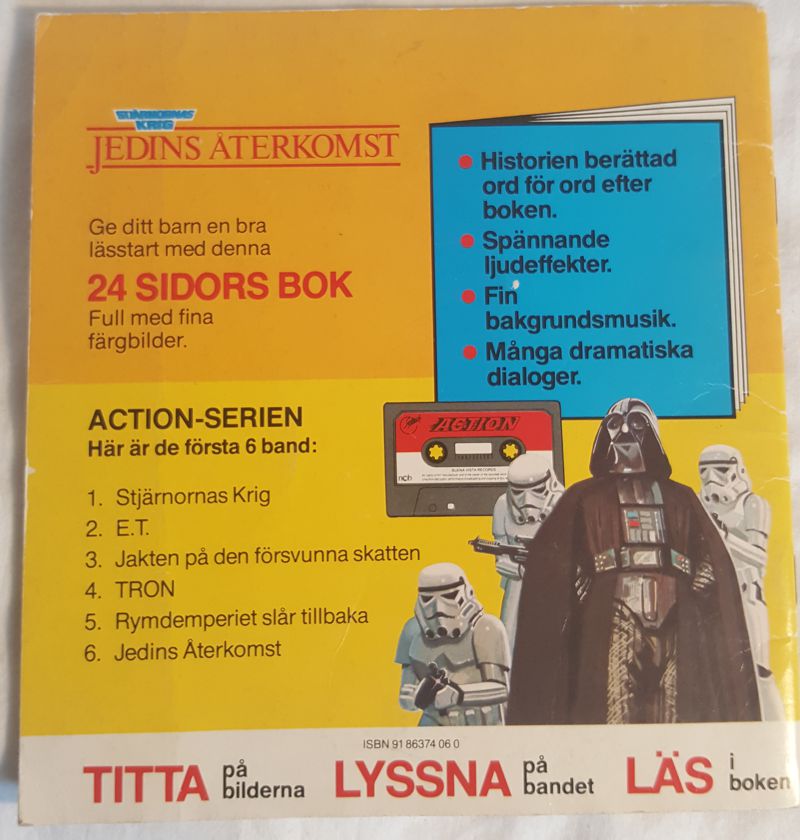 Minor imperfections.
No audio tape, only booklet.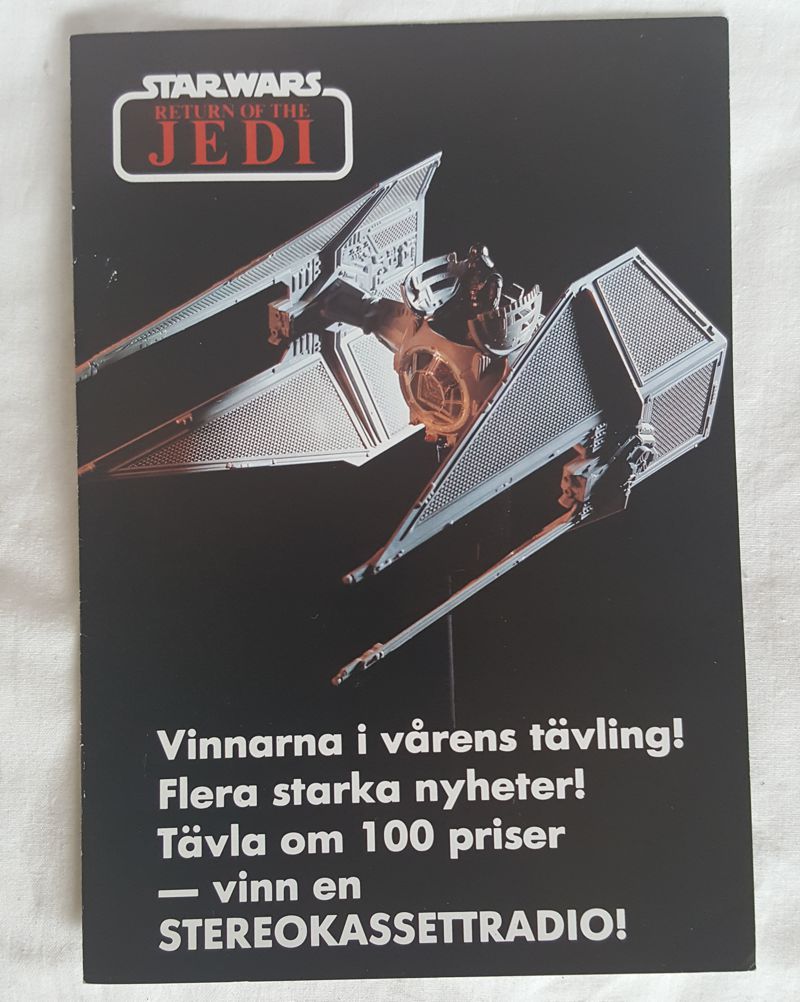 Star Wars Tidning '84, Swedish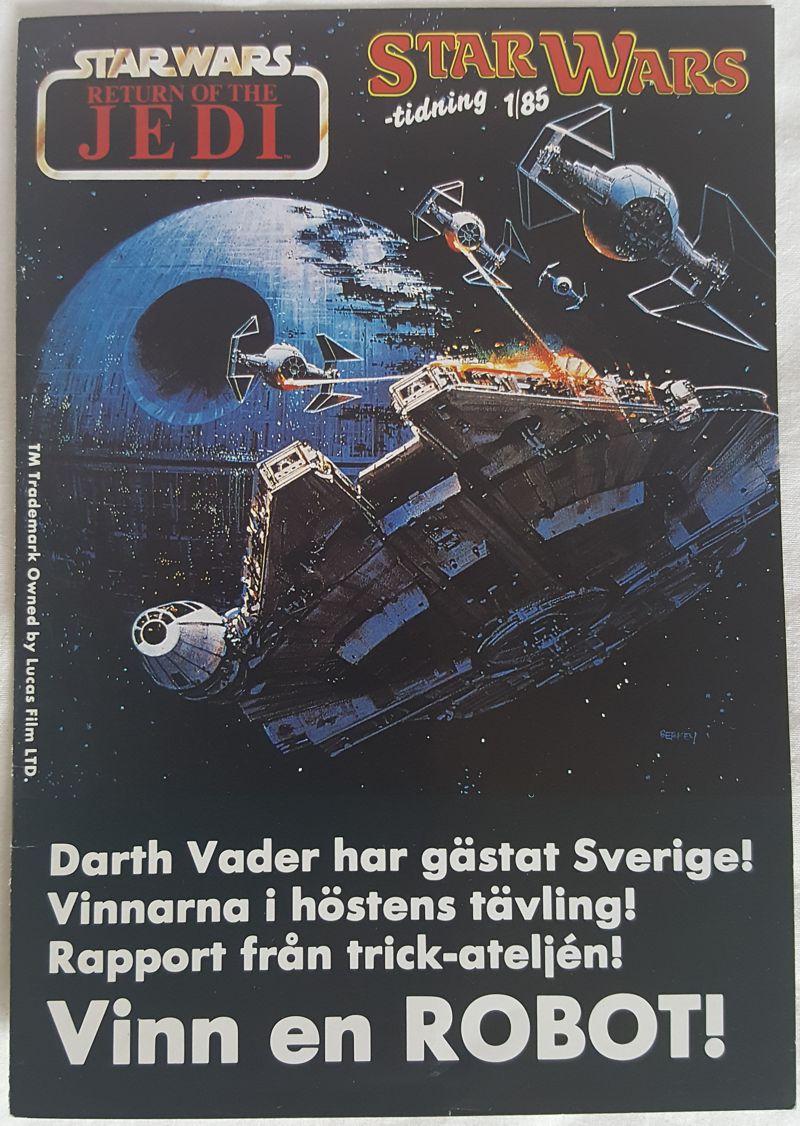 Star Wars Tidning '85, Swedish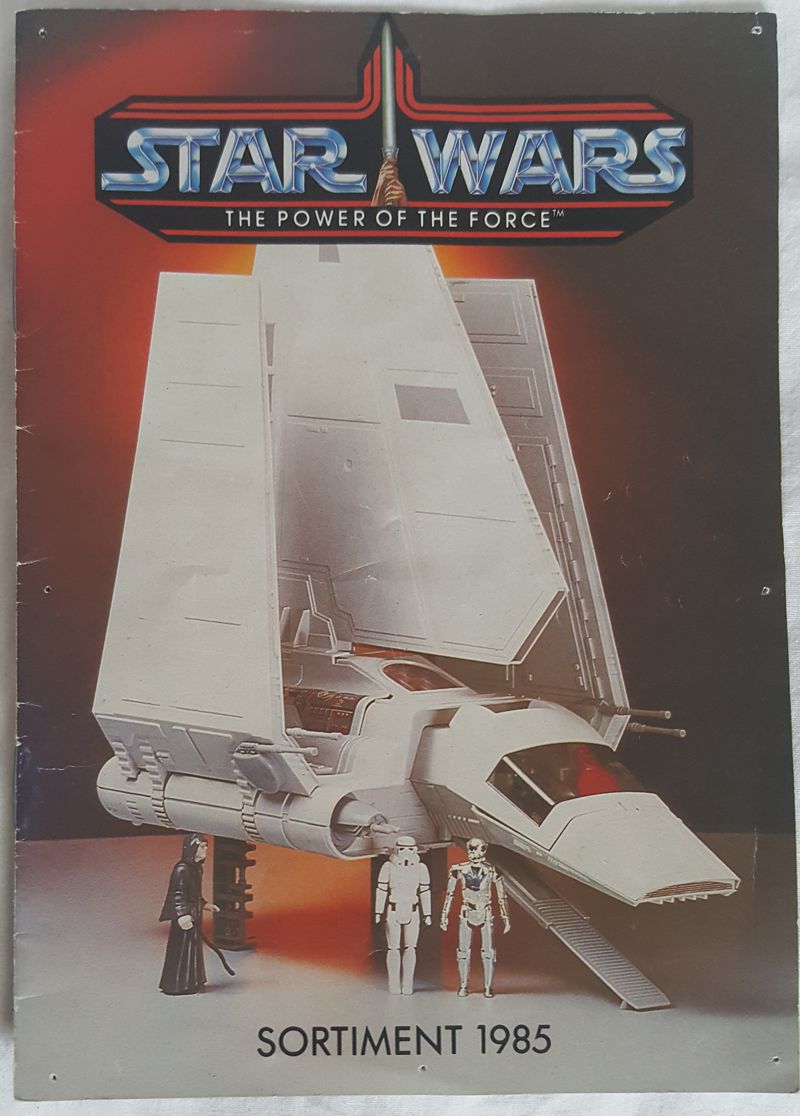 POTF Sortiment 85, Swedish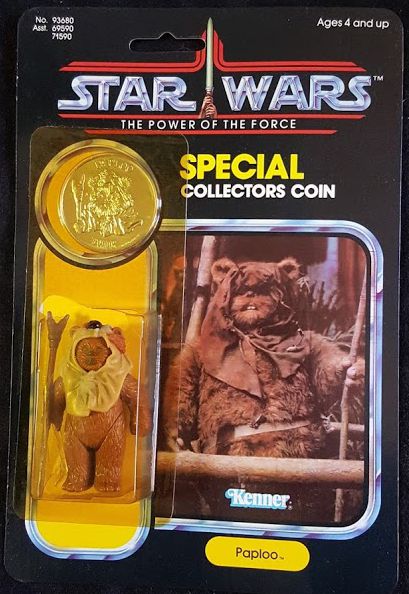 Paploo. Complete w Card and Coin. More pictures [here]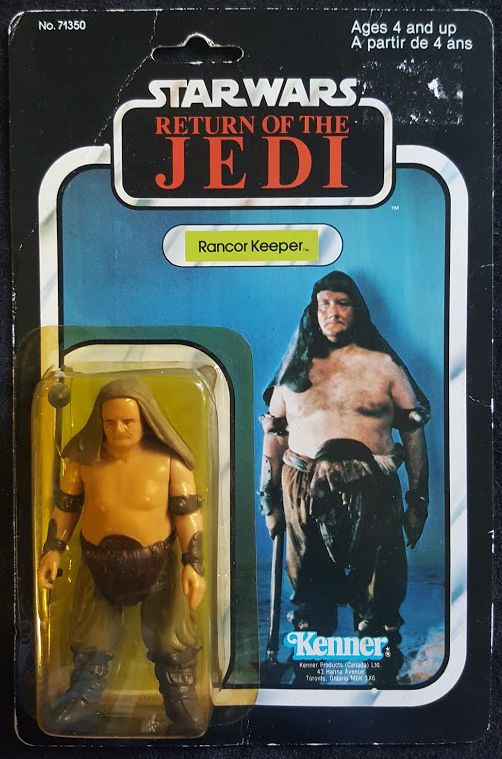 Rancor Keeper Carded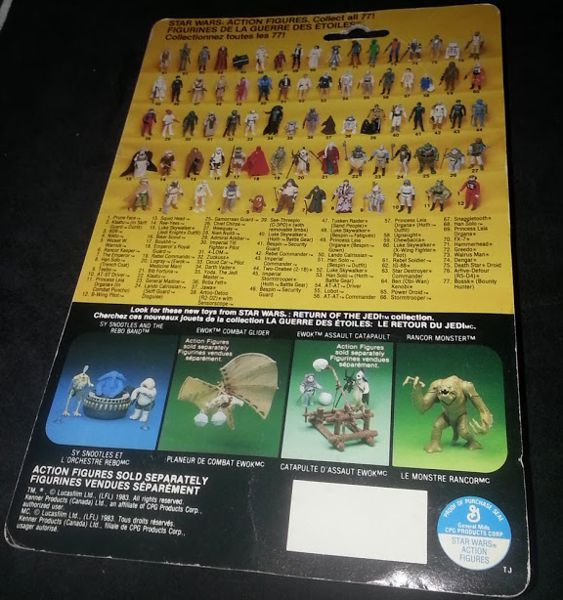 Canadian ROTJ 77-back
Condition: Card bend on left side (see pic) and some residue on right side (see pic). Lays flat.
Attention: Bubble has a crack on the top (see pic).
More pictures: A B C D E F G H I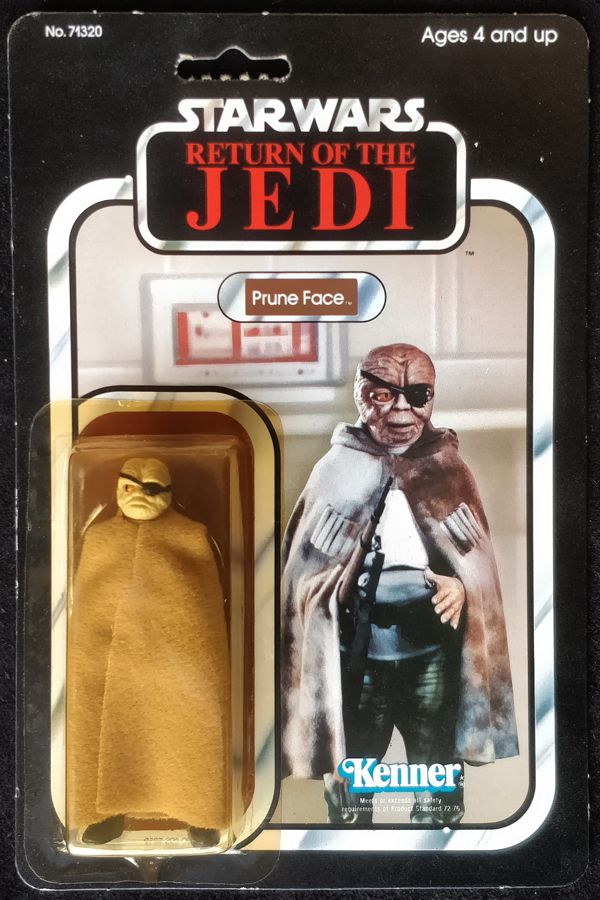 Pruneface Carded
ROTJ 79-back
Condition: Nice. Bubble perfect just tinted yellow. Back has a lito-tear. Flat.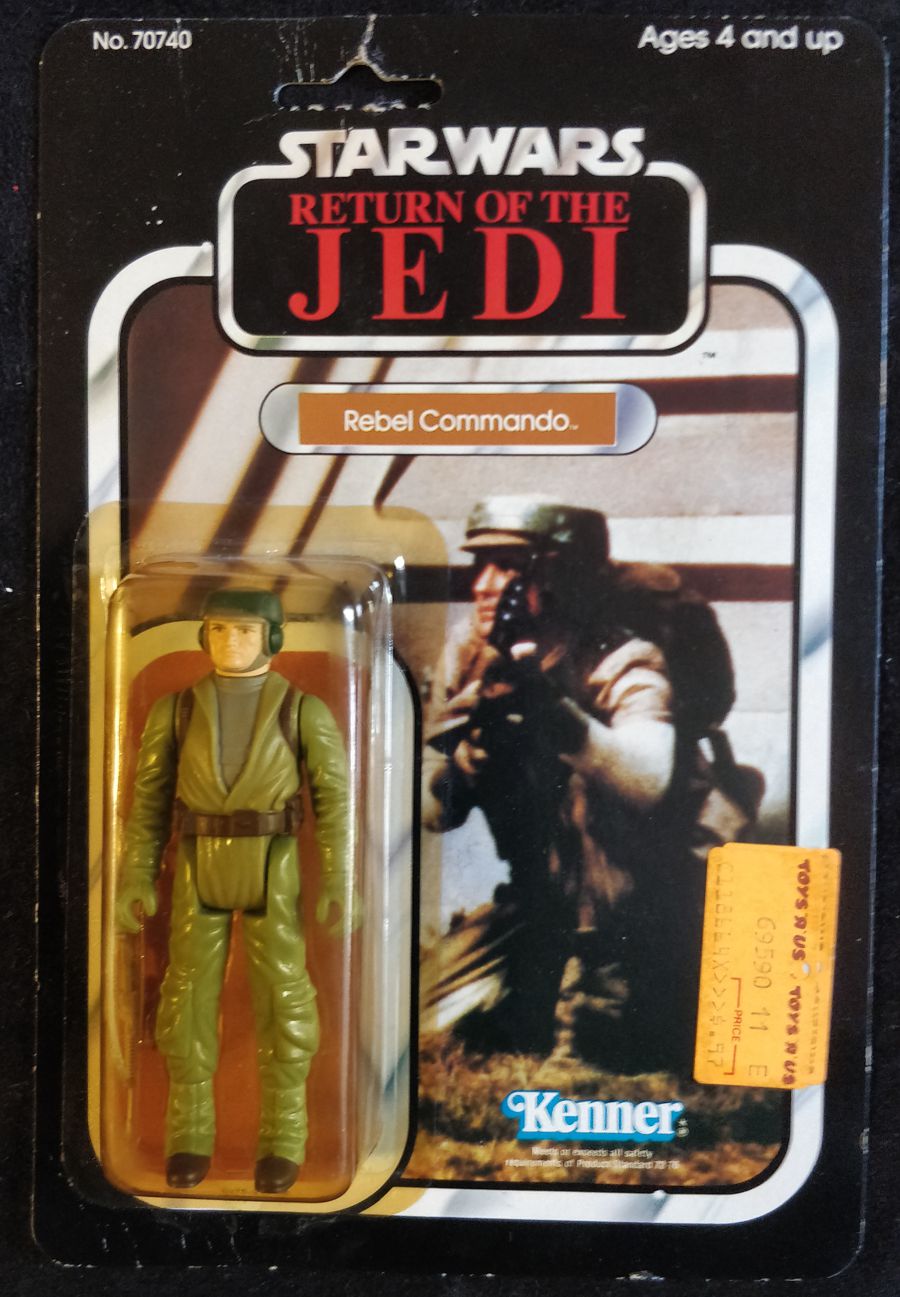 Rebel Commando Carded
ROTJ 77-back
Condition: Fairly flat, not very bad card. Slightly yellowed. Has a crack/hole up top (see pics). Hanger is not perfect (pictures).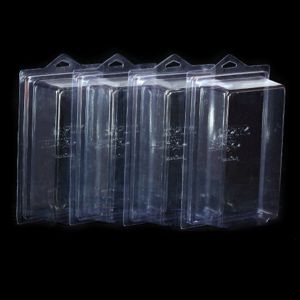 Star Cases, vintage

A few. Different sizes and quality.
Trilogo. Quite nice shape.
Click for better image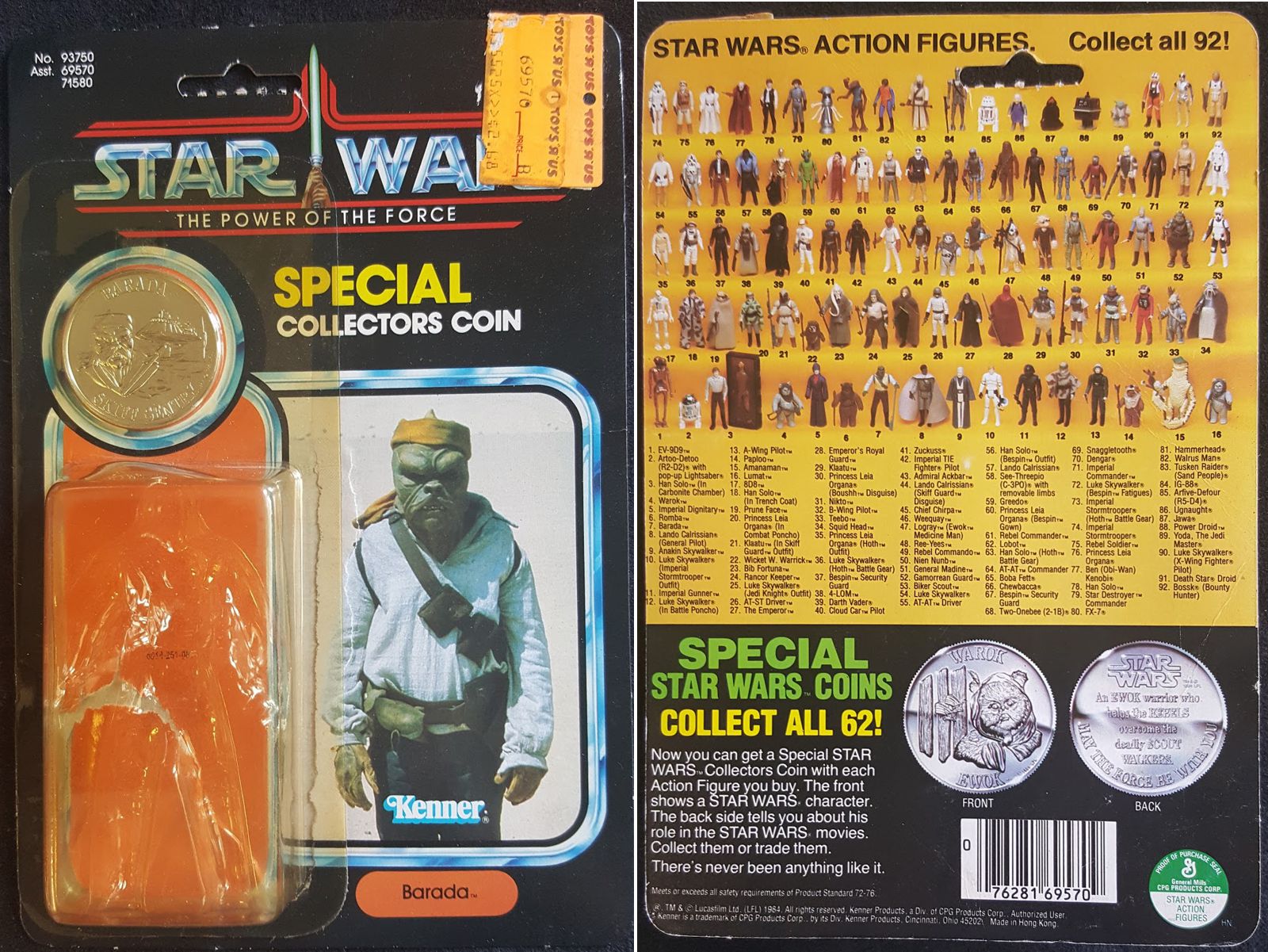 Barada Cardback + coin + bubble + tray
Card in great shape with the coin, attached bubble and tray.
You can even put a figure inside just flip the bubble up and there you have it [image].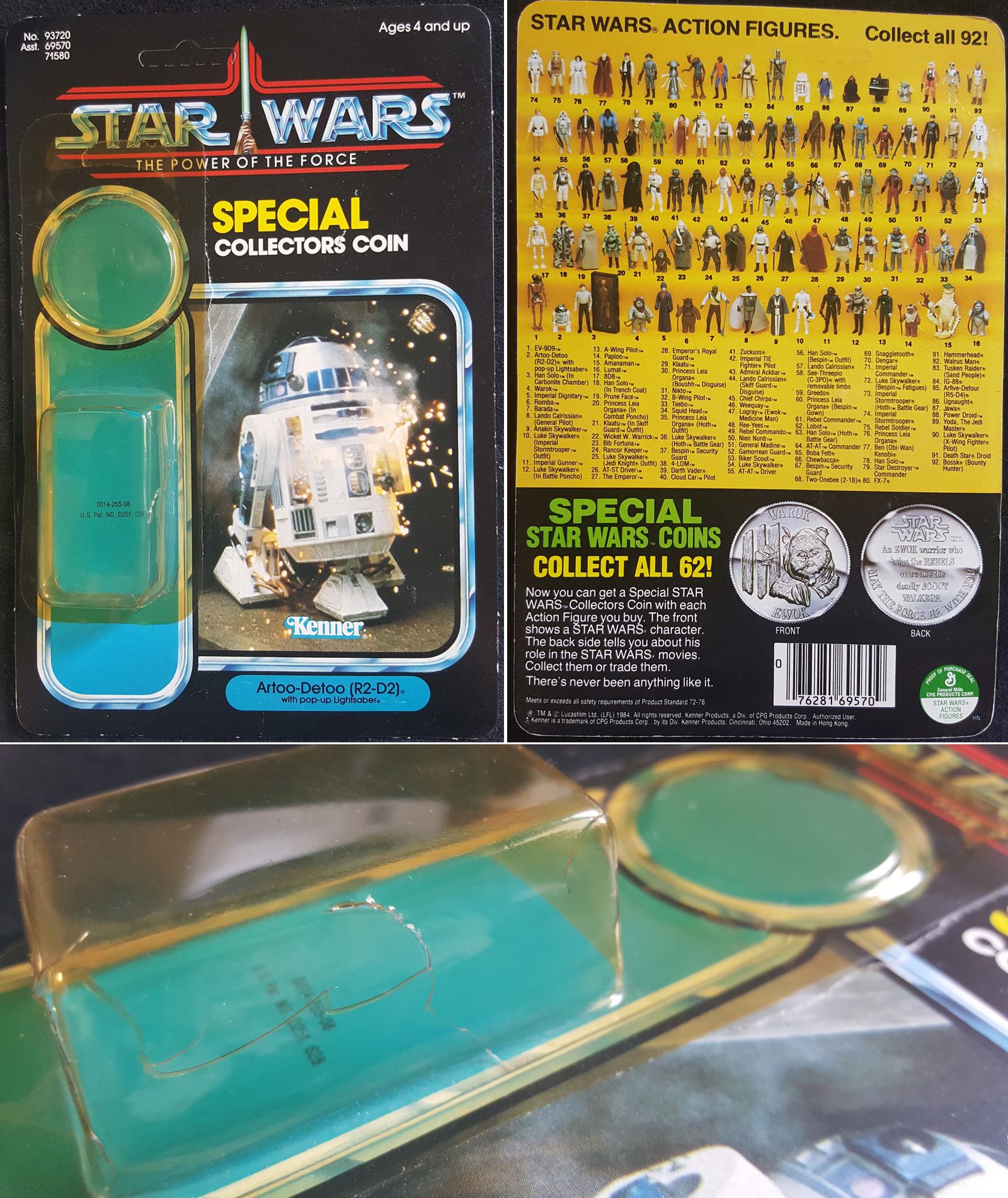 R2-D2 Pop-up Lighsabre Cardback + attached bubble
Very tight to put your figure inside (not tried). Looks great.
| | | |
| --- | --- | --- |
| | | |
| Han Carbonite | POTF-card | Carbonite has drill holes and blue-ish paint. |
| No COO | LFL 1984 | Displays great (not visible from front). |
POTF. Rough card, good coin.
Click for better image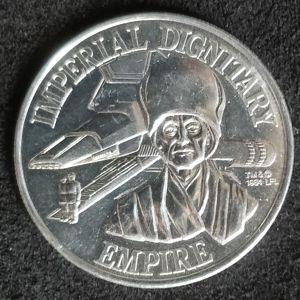 Dignitary POTF Coin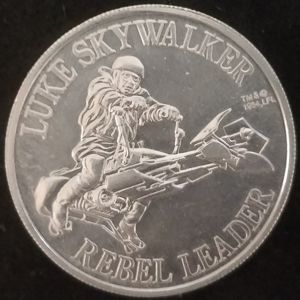 Luke Poncho POTF Coin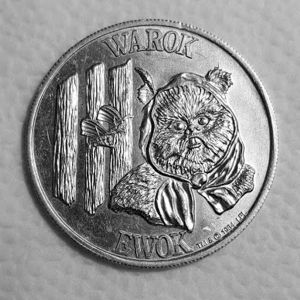 Warok POTF Coin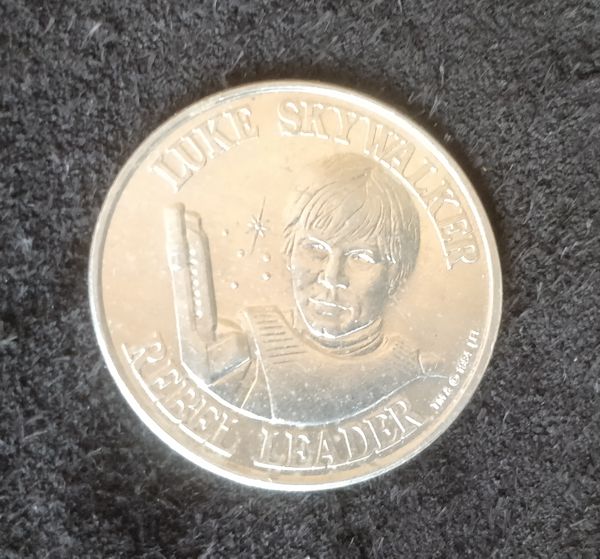 Luke Stormtrooper POTF Coin



Luke Stormtrooper

+ Gun + Helmet
Morgans old childhood Luke Stormy (Tri-logo).

Luke Hoth Rifle (no gun belt)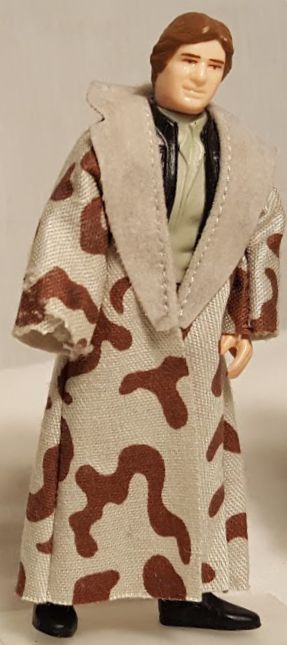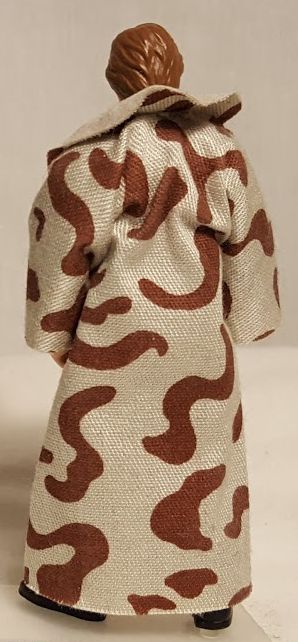 Han Solo Trench + cape, plain lapels. No CCO 1984.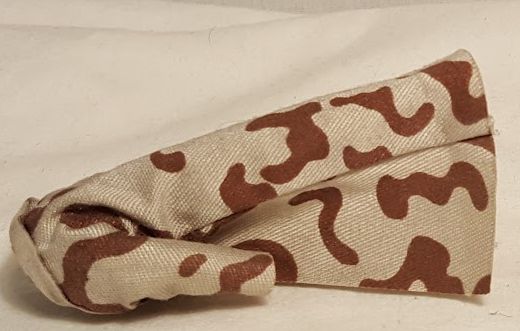 Han Trench Cape (cape only, plain lapels)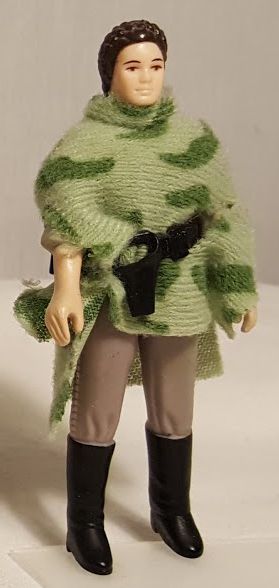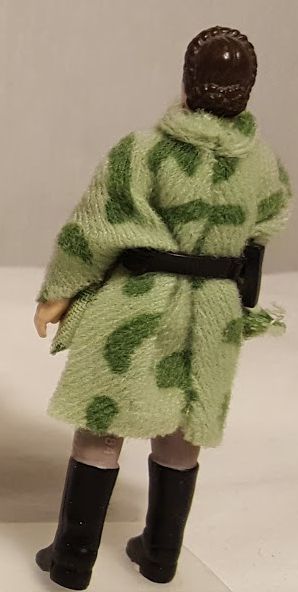 Leia Poncho + cape + belt. No COO LFL 84.
Cape has a tear but displays ok.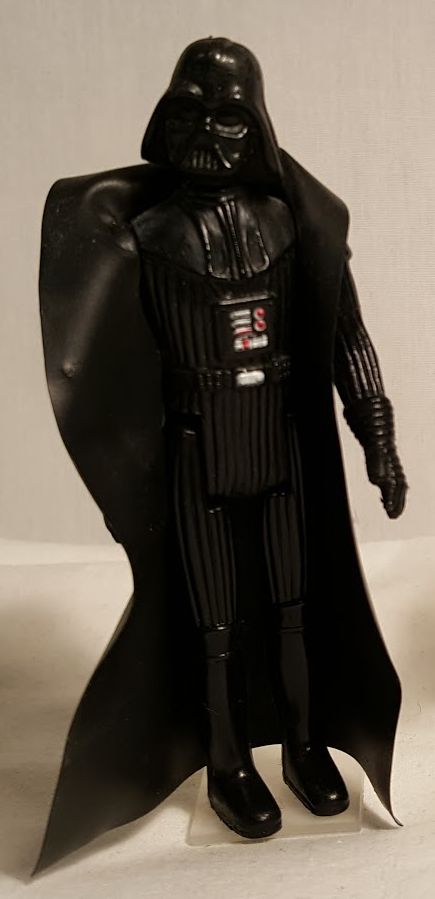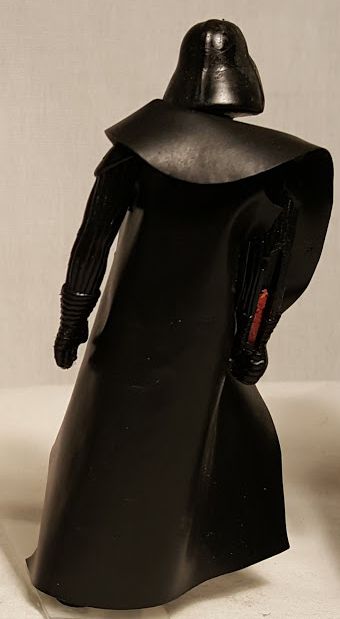 Darth Vader + cape, no sabre (COO Hong Kong)
Large rip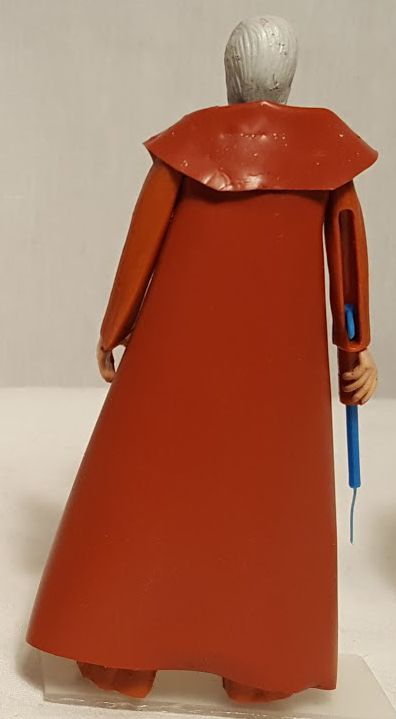 Ben Kenobi + cape + sabre, grey beard (COO Hong Kong). Some scuffing on side of face (see pics)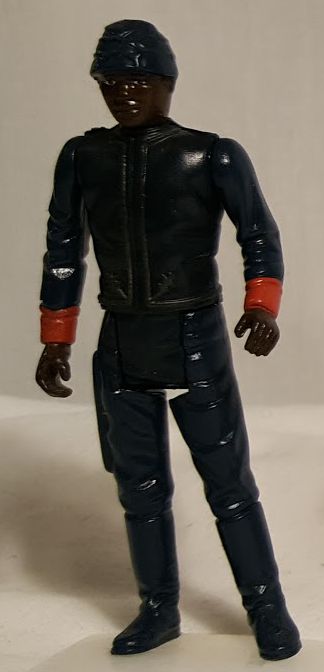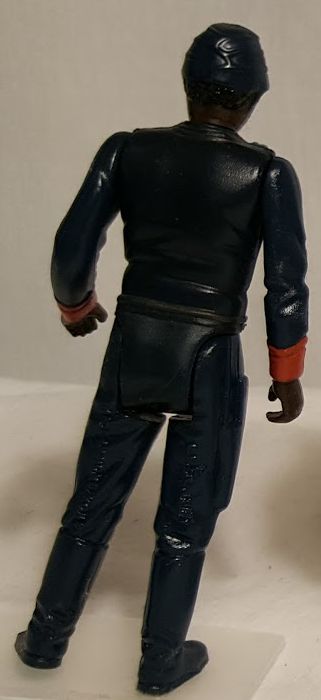 Bespin Guard, Black. COO Hong Kong.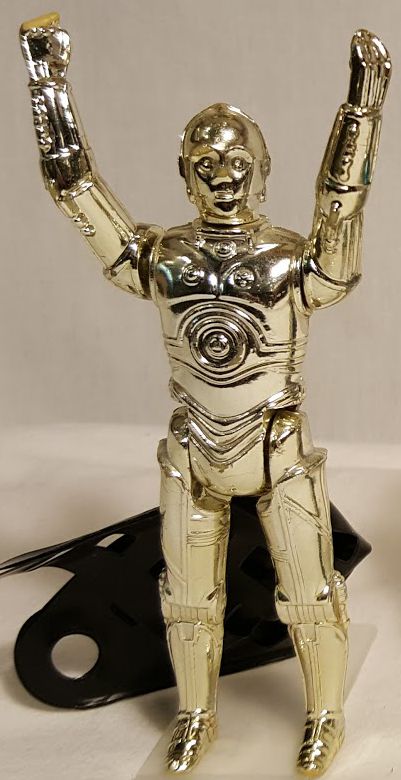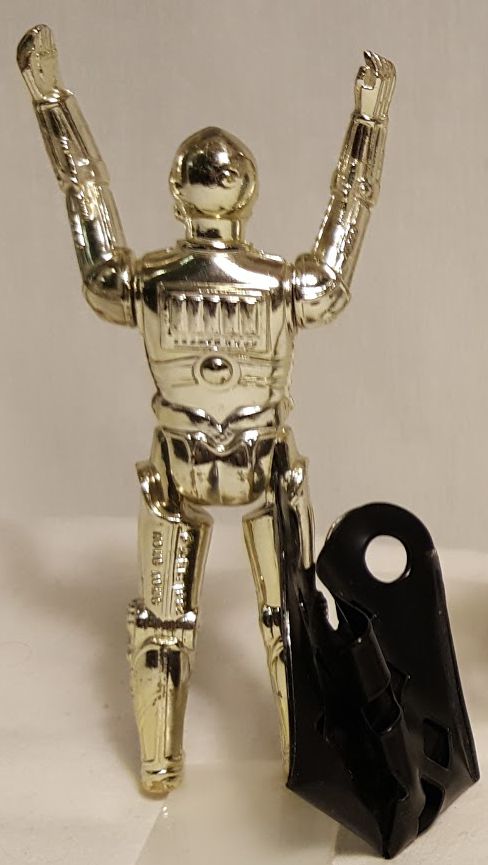 C3PO removable limbs + bag. COO Hong Kong.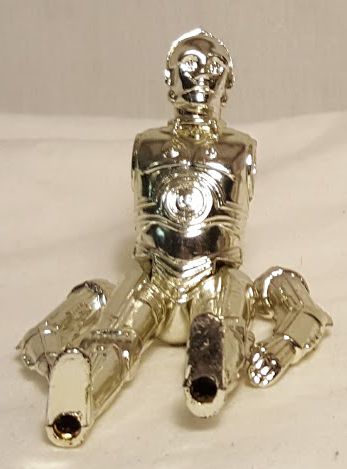 CP3O original, broken. No COO LFL 1982.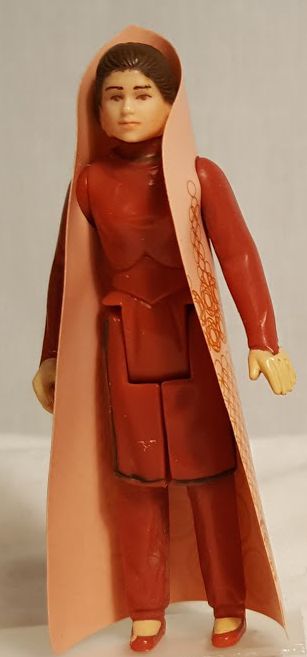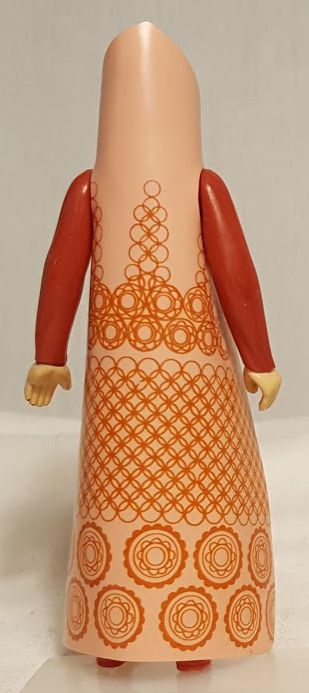 Leia Bespin Turtle Neck + cape. Warm skin, lipstick.
COO Raised bar China.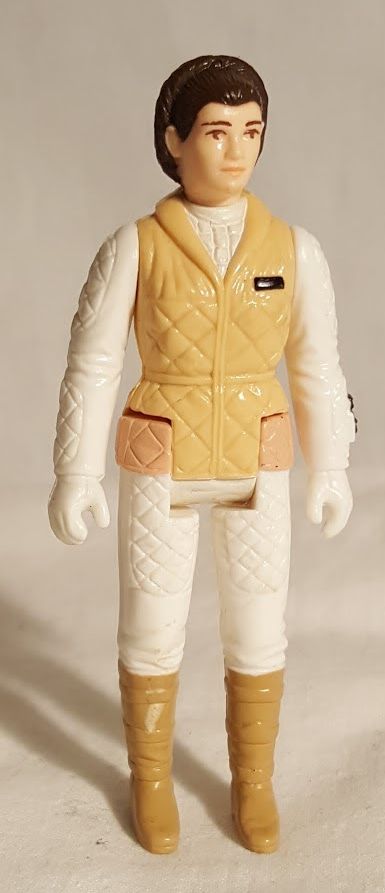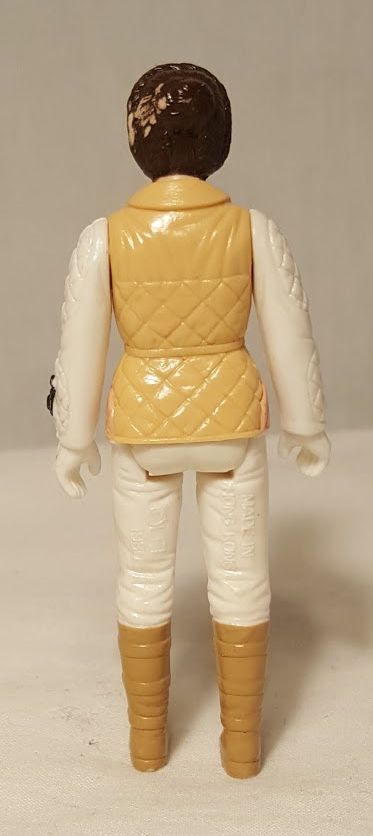 Leia Hoth. COO Hong Kong. Some scuffing (pics)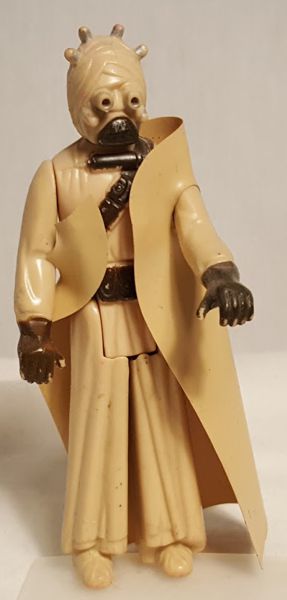 Tusken Raider + ripped cape. COO Hong Kong.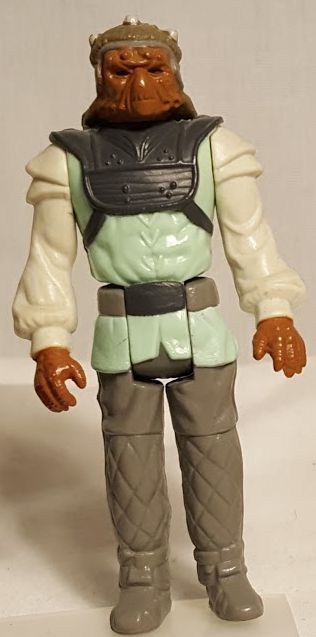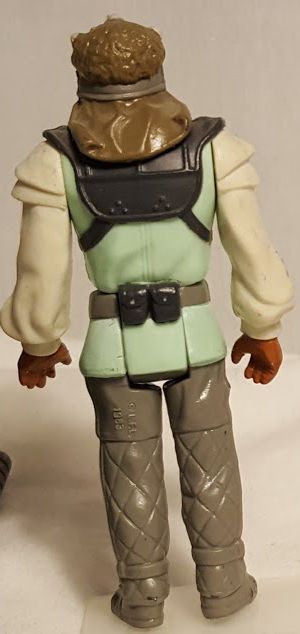 Nikto. No COO LFL 1983.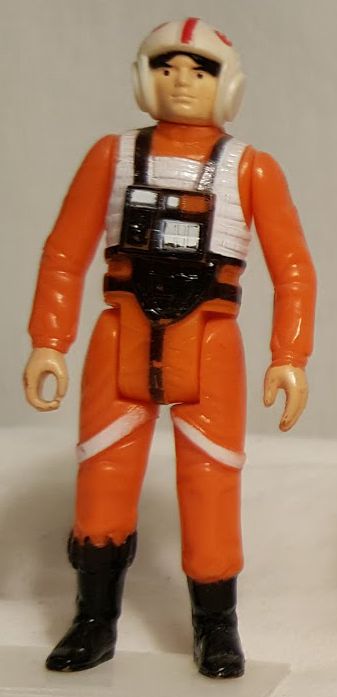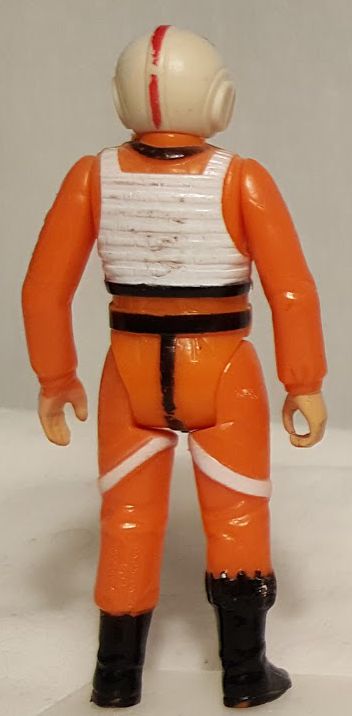 Luke X-wing. COO Hong Kong.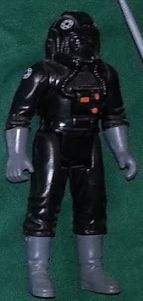 TIE pilot. COO Hong Kong. [More pics]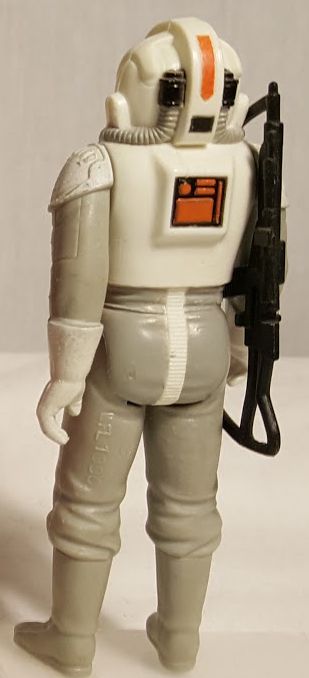 AT-AT-driver + Rifle. No COO. LFL 1980.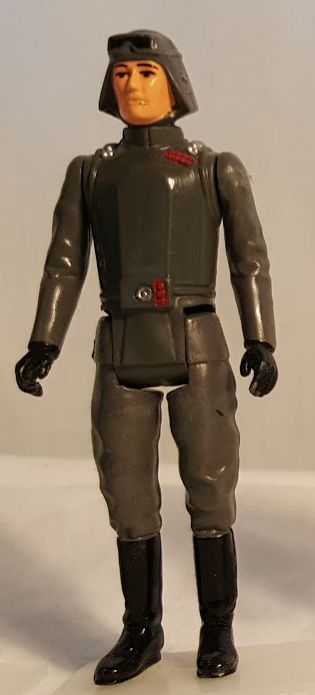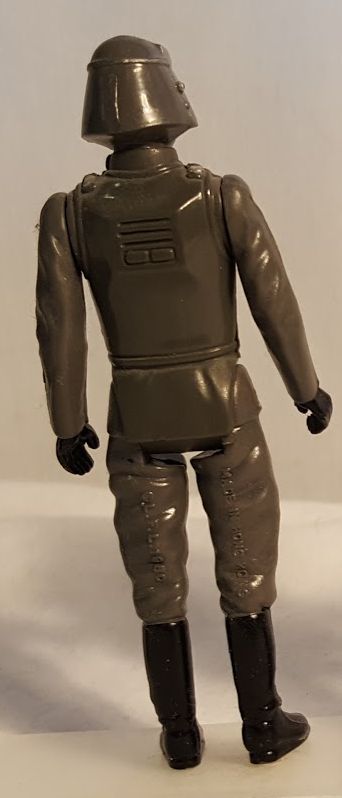 AT-AT Commander. Long plates. COO Hong Kong.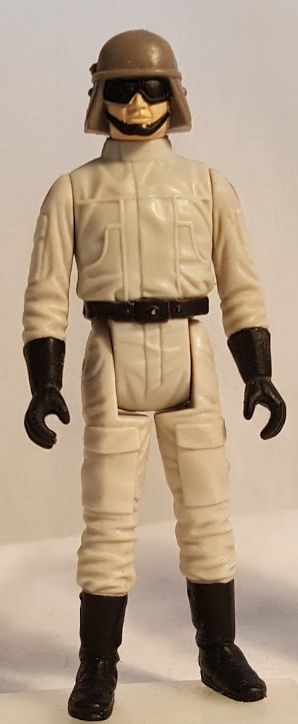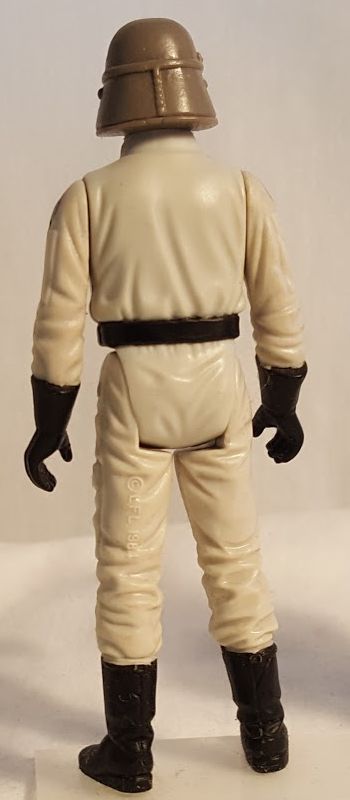 AT-ST Driver. No COO. LFL 1984.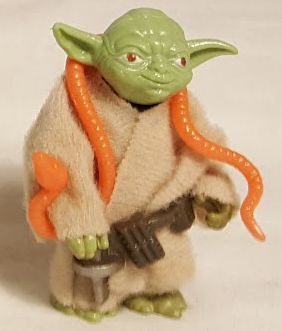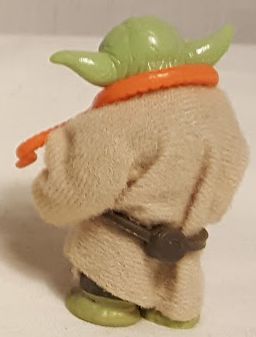 Yoda, yellow snake, red eyes, light green. Incl. Shirt, belt, snake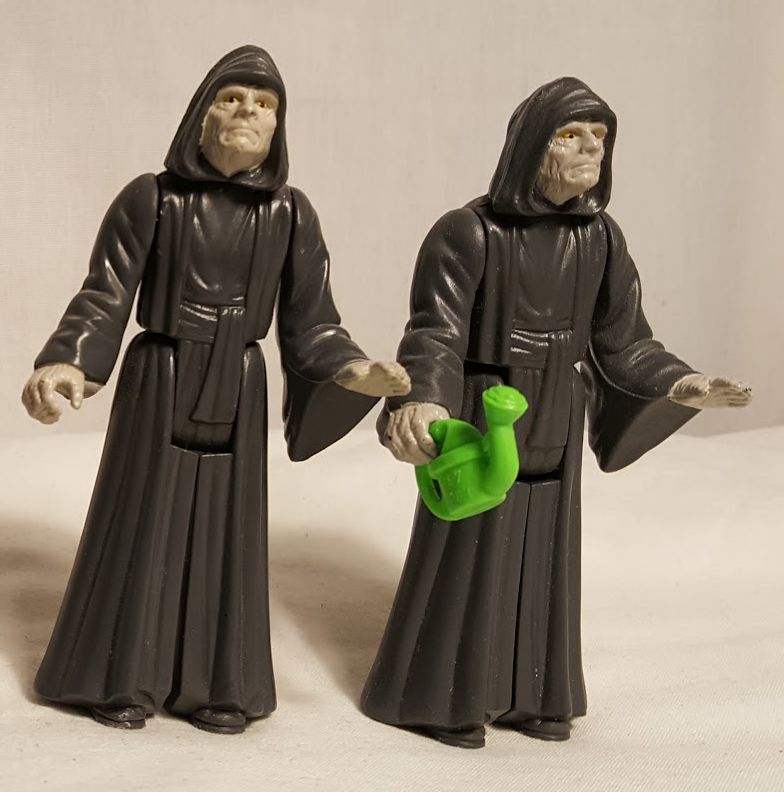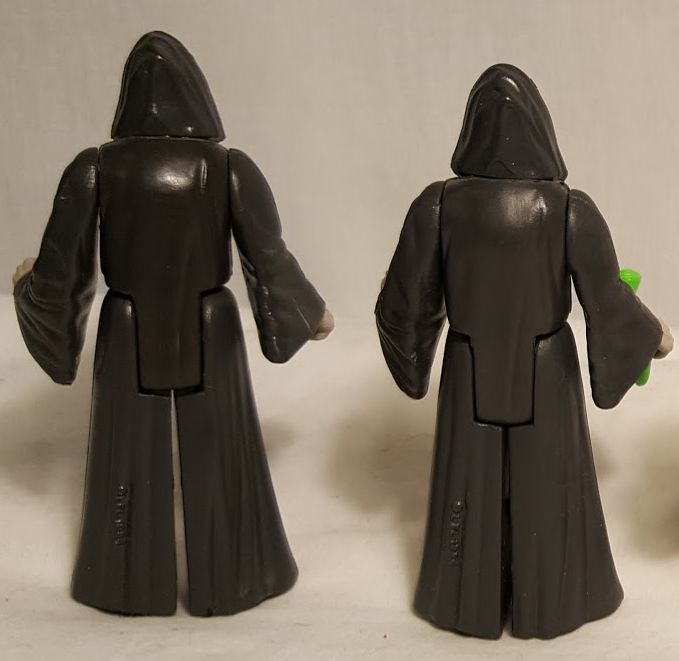 Emperor. No COO. LFL 1984.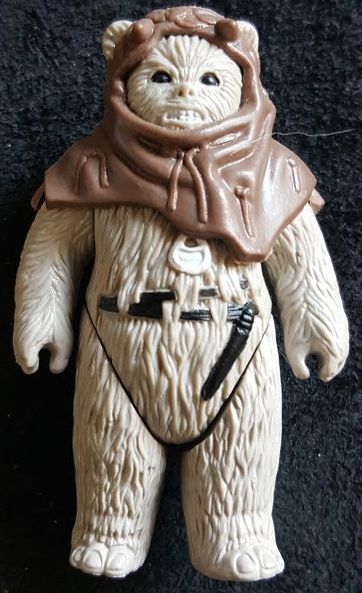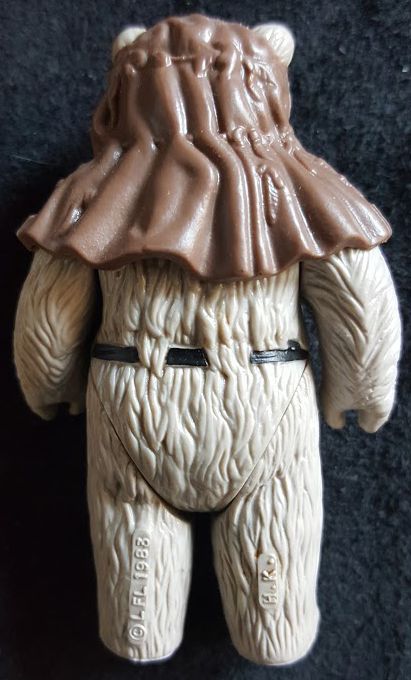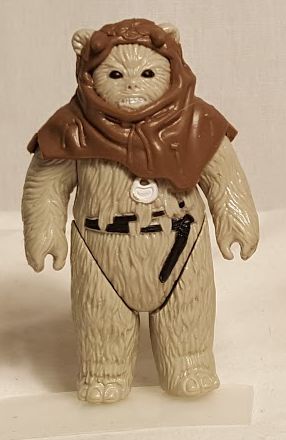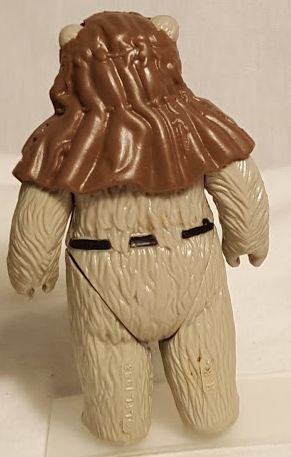 Chief Chirpa + hood. COO H.K.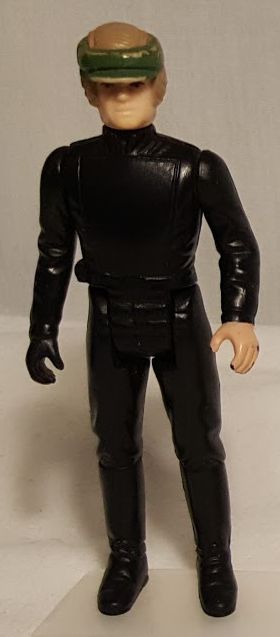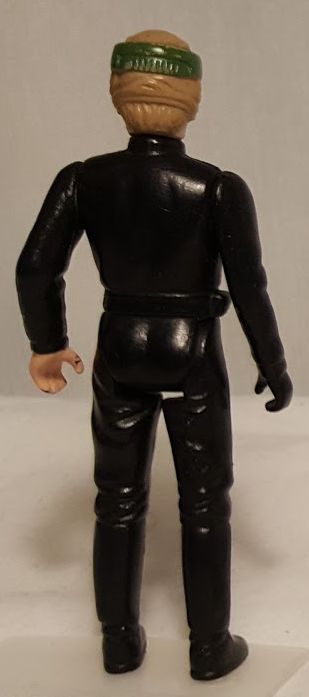 Luke poncho, no COO. Some paint scuf on helmet.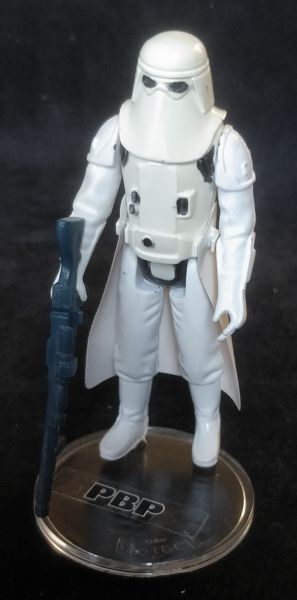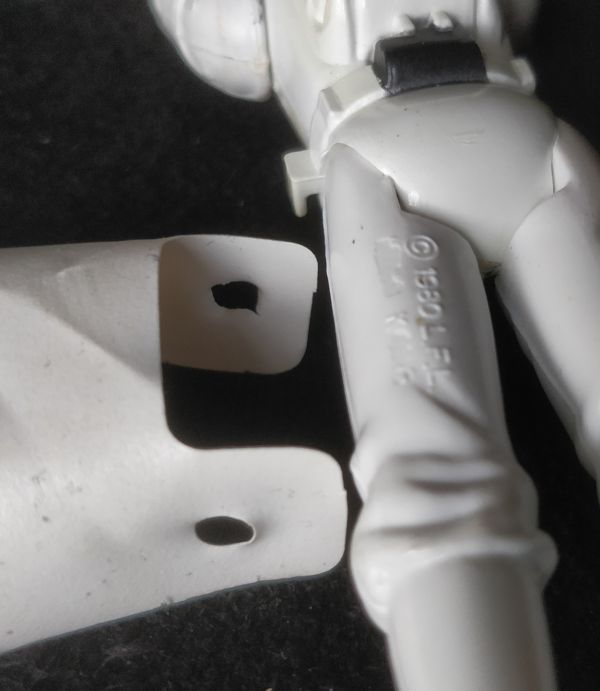 Hoth Stormtrooper PBP/Tri-Logo + gun + skirt
Slightly yellowed. The rarer Tri-Logo/PBP Snowtrooper (same as YPS-trooper).
Round hole skirt, double scraped COO, sharper different plastic. Hoth rifle.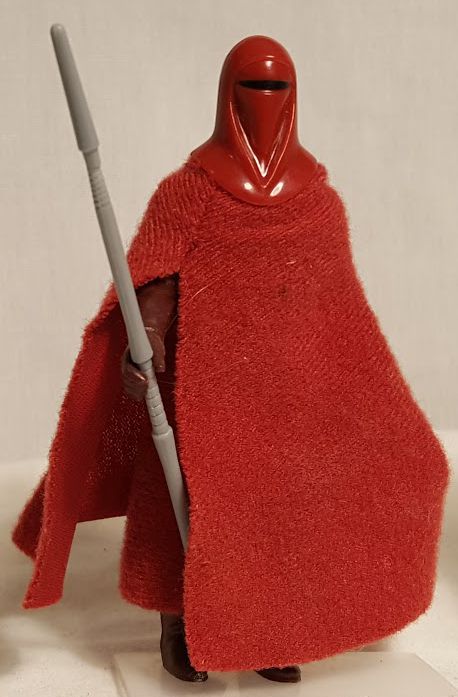 Imperial Guard, red cape, crimson helmet + cape + spear. COO Taiwan.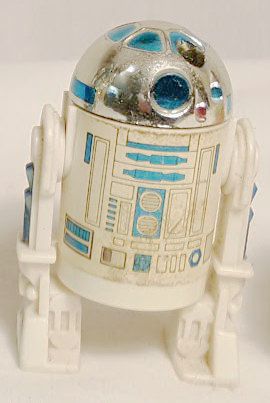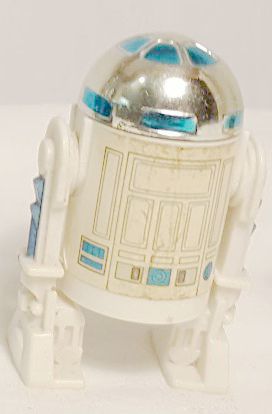 R2D2 pop-up sabre, no sabre. No COO. LFL 1977.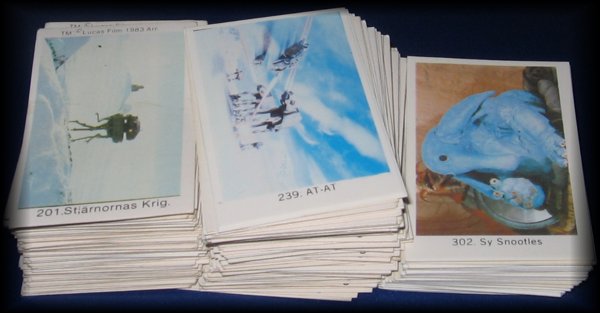 Vintage Nellba Cards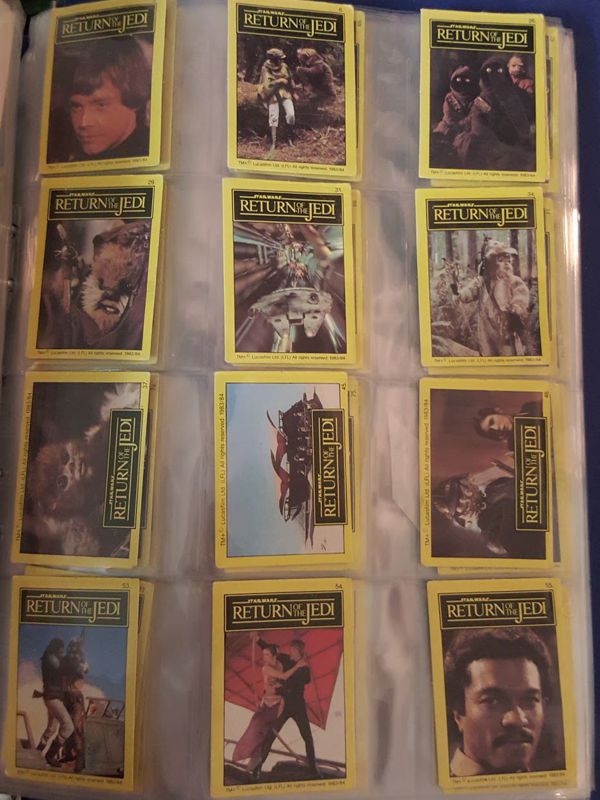 Vintage Monty Fabrieken Cards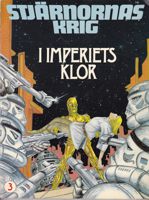 Vintage Swedish Comic Album "I Imperiets Klor"
Msg for more pics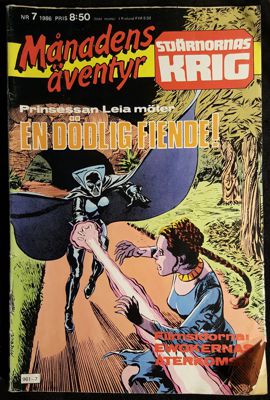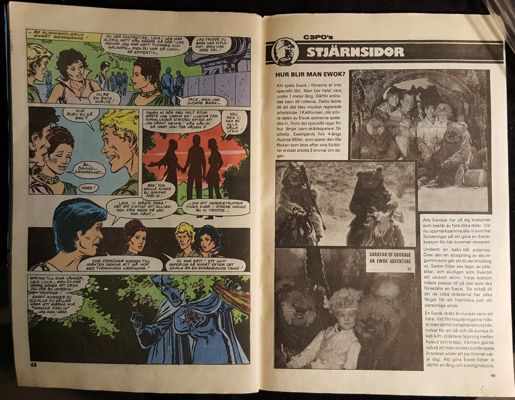 Vintage Swedish Comic 1986 - #7
Descent condition, not perfect. Ask for pictures if needed.