I can make special 3D collection signs with vintage Star Wars-logos if interested.
You will find the designs I've made so far and their sizes.
If you wanna spice up your collection - this is something out of the ordinary! I've made them look like vintage cardbacks and other sources.
It's drawn in 2D and then modeled 3D. It's been made into a polymer in a 3D-printer. You then have a display logo that's no ordinary flat papper sign - real 3D.
The model get the following measurements (slight variation depending on version):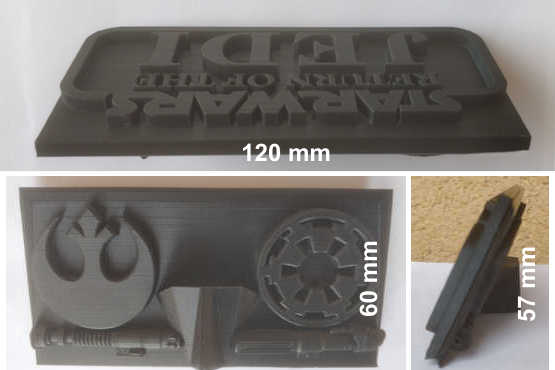 Different companies now how their own collection signs, in a smaller size. 100mm x 29mm (27mm high standing). Backside.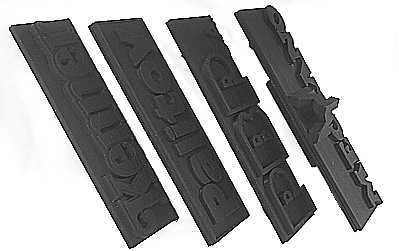 These are the different versions I've made so far: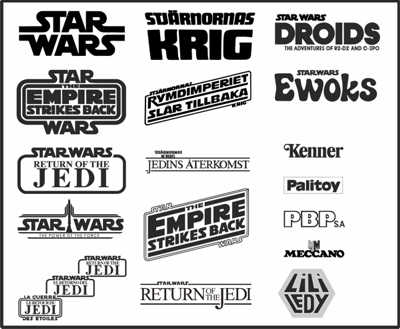 The coin stand is made to just pop POTF-coins in and they hold coins with nothing else. Minimal holder design. Uzay and La Guerra de las Galaxias will probably be next project.
They are made in PLA, it's not a petroleum based polymer. PLA is made from corn starch and becomes very hard and gets sharp contoures. It's quite harmless for everyone. You can paint them with just about any paint without flaking or the paint falling off.
I collect Vintage Star Wars 1977-1985 and have no modern Star Wars (yet).
I did MOTU to train on special multiple curves and extrusions in 3D. Turned out pretty cool. The back has a version of Castle Greyskull with the symbols of He-Man and Skeletor.
Action Force have different measurements and can be adjusted without "International Heroes" if you want, without any major modelling. It's rather suited for smaller sized sign as well (100mm).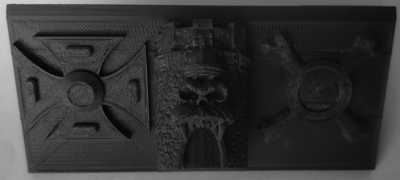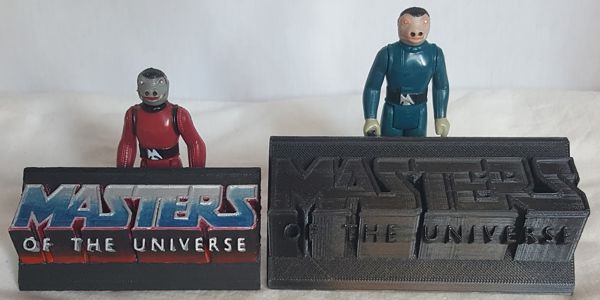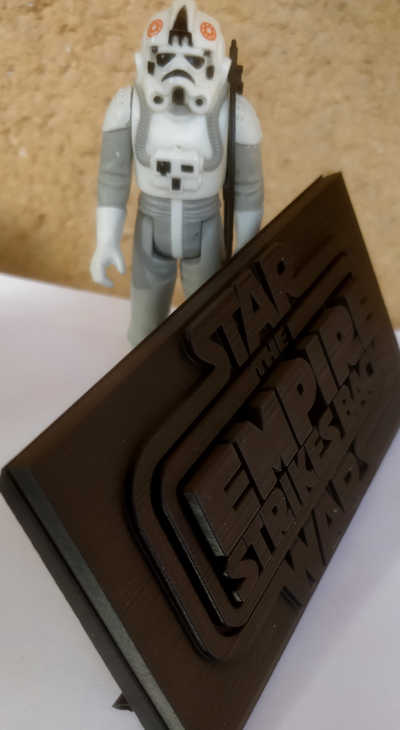 From the back they are also 3D and not just solid.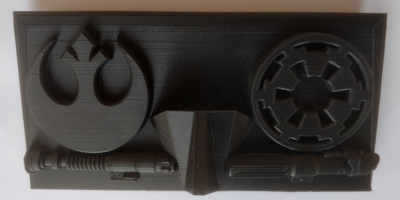 The Rebel and Empire symbols, Darth Vader and Luke Skywalker's lightsabres all in protuding 3D. I've also designed a small shelf on the back for extra weapons or maybe a helmet waiting for it's figure in the collection.
You won't see this when displayed but it gives the sign a nicer feel. The model is made in two steps to make sure no part is flat. The buildplate is not visible (that's where it sits during polymer application). It's completely modeled in 3D.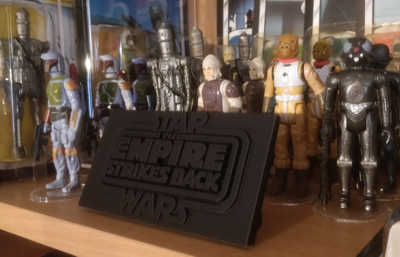 I sell them unpainted.
They are made in matte black (I think it's nicest but can be made in a number of colours). Let me know, I prefer metallics on stands.
There is a very faint line surface depending on the application of the polymer filament. You can paint right on the surface, I prefer several layers.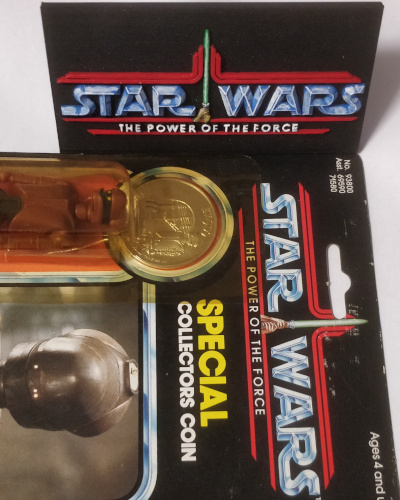 PLA can be painted with just about anything without any problems. I've used small Humbrol-paints made for painting tin soldiers and model air planes. If you've painted Warhammer figures you're all set. Nearest paint stores problably have hobby paints that work fine.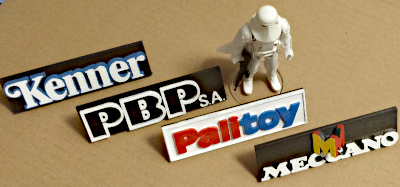 They are pretty darn cool as they are.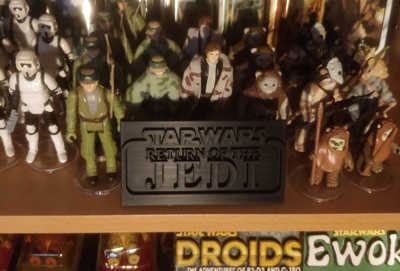 It's takes a huge amount of time for the machine to make these (0,1mm per layer). Dependning on version it's 12-14hrs build time (plus some manual fixes).
If I can make several signs and let the machine work several days, day and night without having to go in, remove one and one, recalibrate it, that's a great save in both labour and time.
For the labour, materials, electricity and the cost of the 3D-printer itself I can sell them in singles but if I can make the machine work by itself and I don't have to manually fix them you can get a discount.
If it's going to be worth my while for the amount of labour, printer, manufacturing costs and all the hours spent I want to be paid of course. Maybe team up with a friend?
1pc 120mm Collection Sign: 180 SEK
2pc 120mm : 300 SEK (150 SEK/pc)
3pc 120mm : 400 SEK (133 SEK/pc)
4pc 120mm : 500 SEK (125SEK/pc)
5+ 120mm : +125 SEK per sign

Small signs, 100mm, (Kenner, Palitoy, Lily Ledy, Meccano): Half price of normal signs.
Coin stands 25 SEK/pc, 100 SEK for five.
Non-Swedish Payment with PayPal
(FF or G/S +3%)
http://www.convertmymoney.com/
Other sizes are possible but you have to contact me. Remember that double the length means eight times the amount of materials and time (2x2x2).
I'm not a professional so it can take some time to setup and let the 3D-printer work during nights and weekends.
Add any shipping costs (no charge for packing materials). It will be sent from Sweden. You can of course swing by Linköping, Sweden and pick them up :-D
If interesed message me via Facebook or email.

- Specify what version you want and how many.
- Mix and match the versions as you wish.
- Pickup locally or cover shipping costs.
If you (not likely) are not satisfied with the items you can send back and will of course be refunded (minus any shipping costs).
Regards,
Rolf "Pappy"